(CNN) -- In his first TV interview since the presidential election, Vice President Dick Cheney once again staunchly defended the Bush administration's record in the war on terror and, more specifically, the decision to go to war in Iraq.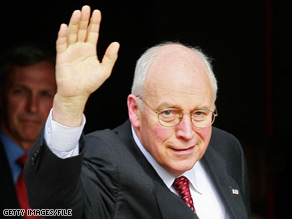 Vice President Dick Cheney brushes aside ex-colleagues' assertions he has morphed into a unrecognizable figure.
While admitting that he shared "frustration" over faulty intelligence regarding weapons of mass destruction in Iraq, Cheney asserted to ABC News' Jonathan Karl on Monday that "the world is better off with Saddam [Hussein] gone."
"I think we made the right decision in spite of the fact that the original [intelligence estimate] was off in some of its major judgments," Cheney said.
"Saddam Hussein still had the capability to produce weapons of mass destruction. He had the technology [and] he had the people. ... [He] had every intention of resuming production once the international sanctions were lifted. This was a bad actor."
Cheney brushed aside assertions from former colleagues that he had somehow morphed into an unrecognizable figure over the course of his term in office.
"Have I changed? Well, not in the sense that I've gone through some fundamental psychological transition here," he said. "But I have been, since [the September 11 attacks], focused very much upon what we needed to do to defend the nation. And I think the policies ... have been good programs. I think those have been sound decisions. And if that's what they mean by saying I changed, I'm guilty."
The vice president argued that, contrary to the claims of its critics, the administration had not tortured suspected terrorists.
"Those who allege that we've been involved in torture, or that somehow we violated the Constitution or laws with the Terrorist Surveillance Program, simply don't know what they're talking about," he said.
At the same time, however, he defended the highly controversial -- and now banned -- practice of waterboarding, particularly in the case of former al Qaeda leader Khalid Sheikh Mohammed, the confessed architect of the September 11 attacks.
"Did it produce the desired results? I think it did," Cheney argued. "Khalid Sheikh Mohammed ... provided us with a wealth of information. There was a period of time there, three or four years ago, when about half of everything we knew about al Qaeda came from that one source."
"So it's been a remarkably successful effort," he said. "I think the results speak for themselves."
Asked why the detention facility at Guantanamo Bay, Cuba, remained open more than two years after President Bush said he wanted to close it, Cheney asserted that the center could not be "responsibly shut down" until "the end of the war on terror."
"What are you going to do with the prisoners held in Guantanamo?" asked Cheney. "Nobody yet has solved that problem."
"[If] you release people that shouldn't have been released, and that's happened in some cases already, you end up with them back on the battlefield," he said. "If you bring them onshore into the United States, they automatically acquire certain legal rights and responsibilities that the government would then have, that they don't as long as they're at Guantanamo."
Looking ahead, Cheney said President-elect Barack Obama had assembled a "pretty good" national security team.
While acknowledging his strong differences with Secretary of State designee Hillary Clinton, Cheney said, "She's tough, she's smart, she works very hard, and she may turn out to be just what President Obama needs."
Cheney dismissed surveys showing that the public largely disagrees with many of the administration's most significant foreign policy decisions.

Watch as key Bush aides will gather for a farewell dinner »
"If we'd responded to the polls, I think the world would look very different today than it does," the vice president said.
"You can't base public policy or tough decisions in a presidency simply on what's happening in the polls. ... It's just a bad way to make policy. And we didn't do that. What we did was what we thought was right for the country."
E-mail to a friend

All About Dick Cheney • Guantanamo Bay • George W. Bush