(CNN) -- President-elect Barack Obama will name Arne Duncan as his choice for education secretary and Sen. Ken Salazar as interior secretary, sources told CNN Monday.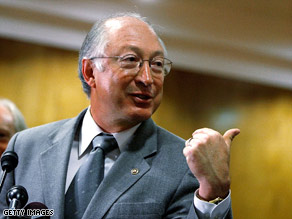 Transition team sources have said that Sen. Ken Salazar will be nominated for Secretary of the Interior.
Obama chose Duncan, head of Chicago public schools, as secretary of education, a Democratic source told CNN.
The Chicago public schools district, which Duncan has headed since 2001, is the third-largest in the nation. Duncan also worked for six years with the Ariel Education Initiative, which tried to create educational opportunities for inner-city students on Chicago's South Side.
Duncan, a Harvard graduate like Obama, often plays basketball with the president-elect and was among those who played with the president-elect on Election Day.
Salazar of Colorado will be Obama's nominee for secretary of the interior, two transition officials told CNN Monday.
Salazar, a first-term senator, focused on public land and energy resource issues during his time in the Senate.
Salazar's appointment would not jeopardize the balance of power in the Senate. Colorado Gov. Bill Ritter, a fellow Democrat, would name his replacement.
The announcement will round out Obama's environment and energy team.
On Monday night Obama announced physicist Steven Chu as his selection for energy secretary. Obama also announced his choices for other energy positions at a news conference in Chicago, Illinois.
Obama called Chu "uniquely suited to be our next secretary of energy" for his work on new and cleaner forms of energy.
Chu, who runs the Lawrence Berkeley National Laboratory in California, won the 1997 Nobel Prize in physics and is highly respected in energy circles.
Obama also named Carol Browner, administrator of the Environmental Protection Agency in the Clinton administration, as the newly created "climate czar" inside the White House. The position will oversee policies on energy, the environment and climate.
Lisa Jackson, former head of New Jersey's environmental agency, was tapped to serve as Obama's Environmental Protection Agency administrator.
"Lisa also shares my commitment to restoring the EPA's robust role in protecting our air, our water and abundant natural resources so that our environment is cleaner and our communities are safer," Obama said.
Don't Miss
Obama also picked Nancy Sutley, the Los Angeles deputy mayor for energy and environment, to lead the White House Council on Environmental Quality. Sutley, a prominent supporter of Sen. Hillary Clinton's bid for the Democratic presidential nomination, is the first high-ranking gay appointee to the Obama administration.
Sutley has been "at the cutting edge" of environmental work on the municipal and regional level, Obama said. She will be "a key player in helping to make our government more efficient in coordinating our efforts to protect our environment at home and around the globe," he added.
Los Angeles Mayor Antonio Villaraigosa praised the appointment of his deputy mayor to a national post.
"With Nancy on my team, we have made tremendous progress -- from quadrupling our renewable energy portfolio to exceeding the targets set out by the Kyoto Protocol four years ahead of schedule," he said in a written statement.
Energy is one aspect of the president-elect's goal to create 2.5 million jobs by 2011. The plan aims to put Americans to work updating the country's infrastructure, making public buildings more energy-efficient and implementing environmentally friendly technologies, including alternative energy sources.
"In the 21st century, we know that the future of our economy and national security is inextricably linked with one challenge: energy," Obama said at a news conference to introduce his energy team.
"We've seen Washington launch policy after policy, yet our dependence on foreign oil has only grown, even as the world's resources are disappearing," he said.
"This time has to be different. This time we cannot fail, nor can we be lulled into complacency simply because the price at the pump has for now gone down from $4 a gallon. "
During his campaign, Obama said he would invest $150 billion over 10 years in clean energy. He proposed increasing fuel economy standards and requiring 10 percent of electricity in the United States come from renewable sources by 2012.
The news conference comes in the wake of a scandal involving Illinois Gov. Rod Blagojevich, arrested last week on federal charges related in part to allegedly trying to sell Obama's vacant Senate seat.
Illinois law gives the governor the sole power to appointment interim senators. Many of the state's political leaders -- and Obama -- have called on the governor to resign.
Obama said last week he would be getting information about conversations between his staff and Blagojevich's, and would release it in the next few days.
The transition team said Monday afternoon that a review of staff contacts with Blagojevich and his office has been conducted and completed and is ready for release.
The review "affirmed the public statements of the president-elect that he had no contact with the governor or his staff, and that the president-elect's staff was not involved in inappropriate discussions with the governor or his staff over the selection of his successor as U.S. senator."
The statement said the transition team agreed to a request from the U.S. attorney's office to delay the public release of the transition review until next week so as not to impede with the investigation of the governor.
Also Monday, Obama is expected to meet with his national security team, which includes Sen. Hillary Clinton, his pick for secretary of state, and Defense Secretary Robert Gates. iReport.com: What do you think of Obama's Cabinet picks?
An aide to Obama said the meeting will cover a "range of topics" and the focus will be on "international opportunities and challenges."
Monday's event is part of a series of gatherings that will make sure the team is ready to "hit the ground running on January 20," the aide said.
E-mail to a friend

CNN's Brianna Keilar and Jessica Yellin contributed to this report.
All About Barack Obama • Rod Blagojevich