By Campbell Brown
CNN

Editor's note: Campbell Brown anchors CNN's "Campbell Brown: No Bias, No Bull" at 8 p.m. ET Mondays through Fridays. She delivered this commentary during the "Cutting through the Bull" segment of Monday night's broadcast.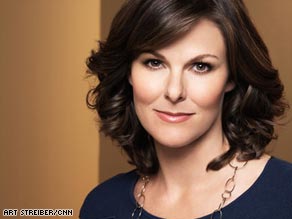 CNN's Campbell Brown says the lesson to be learned is: Be careful who you trust and diversify.
(CNN) -- We're going to be talking more about the stunner that kicked off the weekend: the arrest of Bernie Madoff, a widely respected Wall Street figure, for running what he himself now acknowledges was the investment equivalent of "one big lie."
And it gets even better.
Eight years ago, a financier working at a rival firm wrote a letter to the Securities and Exchange Commission, calling Madoff's operation, "the world's largest Ponzi Scheme."
So should we blame the SEC for not being more on top of this?

Watch Campbell Brown's commentary »
Well here's the thing: Yes, our financial institutions have failed us over these past few years. And no, our government hasn't protected us the way we hoped it would.
But not even a scrupulous, prudent financial industry (if you can imagine such a thing) or a vigilant, honorable government (if you can imagine that, too) can save us from every con man trying to pull a scam.
Because our country, our economy, isn't just built on banks and regulators. Its foundation is the American people and the choices we make.
'No bias, no bull'
Get the latest on the day's main events on "Campbell Brown: No Bias, No Bull"
8 ET Monday through Friday on CNN

And if one of us decides to exploit the trust and good will of our fellow citizens to orchestrate a massive swindle, well, sometimes that kind of thing just can't be stopped.
I frankly think The Wall Street Journal editorial page made a strong case Monday, pointing out that it is impossible to prevent every financial fraud, just as it is impossible to prevent all crime in general.
Given that, the best advice may just be: Be careful who you trust and diversify. Don't invest all your money in one place.
Don't Miss
The stories to emerge from this, people who have lost their entire life savings, foundations obliterated and charities forced to shut down, as heartbreaking as these stories are, the simple truth is the government and its best investigators cannot save you from a really good con man.
The opinions expressed in this commentary are solely those of Campbell Brown.
E-mail to a friend

All About Bernard Madoff • The Wall Street Journal