By Bob Greene
CNN Contributor

Award-winning writer Bob Greene rode CNN's Election Express across the country in the final weeks of the campaign before the Election Express parked in Chicago.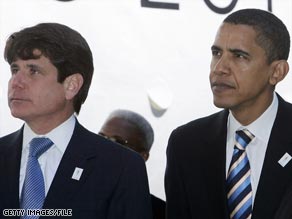 Illinois Gov. Rod Blagojevich, left, and Barack Obama attend a 2007 rally for Chicago's 2016 Olympics bid.
CHICAGO, Illinois (CNN) -- These days, you have to wonder whether Barack Obama would like to retract those two words he ad-libbed at the very beginning of his victory speech in Grant Park -- the two words that didn't appear in his prepared text.
Those two words seemed so innocuous at the time:
"Hello, Chicago!"
This week it would be hard to blame him if he is counting down the seconds until he can say goodbye to Chicago. "Change We Can Believe In" was an inspiring and highly successful campaign slogan, but this is a city that, in the ways that really count, never changes, and a man can grow old and embittered waiting for it to.
The legal and political questions whirling around the governor of Illinois, Rod Blagojevich, will play themselves out in time. The nation, most of whose citizens had never heard his name before this week, will eventually turn its attention to other news stories.
And Chicago?
Don't Miss
There are those who are predicting that this time around, the city will undergo a profound transformation. That the old quotation attributed to the late Alderman Paddy Bauler -- "Chicago ain't ready for reform!" -- will at last be superseded by some civic version of "Never again."
But history doesn't provide much factual foundation for that hope. And the real question is: Will the Blagojevich story -- so riveting today, so seemingly unique -- become just another part of the long-running legend, just another rung on the ladder of Chicago lore?
Obama, at his news conference Thursday, said:
"All I can do is read what was in the transcripts, like the rest of you have read it, and shake my head."

Watch as questions linger about the Illinois scandal »
But people have been shaking their heads at news developments here for so many generations that the city has developed a chronic sore neck. The allegation that Blagojevich tried to sell a seat in the U.S. Senate would seem to set some sort of new standard for brazenness -- until you consider that this is the city in which a major-league baseball team once threw the World Series.
U.S. Attorney Patrick Fitzgerald may very well be the most admired man in Chicago right now, and many people are comparing him to Eliot Ness. Ness, though, ended up leaving eventually -- he became the public safety director in Cleveland, Ohio, and then ran a losing campaign as a candidate for mayor of that city. There was a great television series based on the heroic exploits of Ness and his "Untouchables," and later a highly entertaining movie, but as far as permanently changing the texture of life in Chicago. ...
Well, if Ness were alive this week, he'd probably be shaking his head along with everyone else in town. There is a part of Chicago's essence that has a way of outliving everyone who would try to alter it.
When Paddy Bauler was 85 years old, long retired from representing the 43rd Ward in Chicago's City Council, he said to me, laughing, "City Hall is better than the White House. I was at that hall when they built it. Sometimes I didn't even know what payroll I was on."
I asked him -- how could I not? -- the essential question:
Is Chicago ready for reform?
"Who the hell would want to live here if it was?" he said. "This is the big city, boy! This ain't Honolulu!"
I laughed along with him then, because that seemed like the thing to do. This is one of those weeks in Chicago when there's not much laughter, and there are many public vows to give the city, and the state, a deep cleaning.
We'll see. Barack Obama is a man who is known for keeping his emotions in check, and keeping his cards close to his chest. If he is having any regrets about choosing to spend this transition period in Chicago, he's not saying. The choice made a lot of sense, a month ago: Chicago is his home, and there was a certain symbolism inherent in preparing for the presidency a time zone away from the District of Columbia.
But Chicago has a way of asserting its own symbolism. The president-elect lives here, at least for a few more weeks, but he was born in Hawaii. And, if there was ever any doubt, the fact was underlined this week: This ain't Honolulu.
E-mail to a friend

All About Rod Blagojevich • Chicago • Barack Obama