By Campbell Brown
CNN

Editor's note: Campbell Brown anchors CNN's "Campbell Brown: No Bias, No Bull" at 8 p.m. ET Mondays through Fridays. She delivered this commentary during the "Cutting through the Bull" segment of Friday night's broadcast.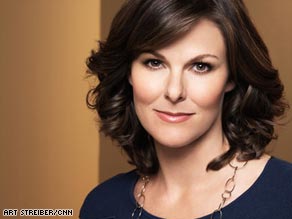 CNN's Campbell Brown says taxpayers deserve to know how government handouts will be spent.
(CNN) -- At this hour Friday, Congress is still fighting over whether to give the automakers $14 billion to try to prevent General Motors and Chrysler from going bankrupt.
This is after dragging the CEO's of these companies to Capitol Hill, raking them over the coals, publicly humiliating them and demanding a detailed plan from them on just how this money will be spent.
And by the way, I think they should have been raked over the coals. They should account for how taxpayers' money will be spent.
But boy, wouldn't it be nice to see a little bit of equivalency for the big banks?

Watch Campbell Brown's commentary »
Do you think anyone has asked the bank managers if they fly in private jets?
Why aren't they being held to the same standard, in particular Citigroup, once the country's largest bank?
'No bias, no bull'
Get the latest on the day's main events on "Campbell Brown: No Bias, No Bull"
8 ET Monday through Friday on CNN

Citi was on the verge of going under largely because its managers made some really dumb decisions.
And yet, with little or no debate, Citi got a check for $45 billion, more than three times what the automakers were offered.
You remember Robert Rubin, the former treasury secretary? He is one of the head honchos of Citi.
Was he called to Capitol Hill, raked over the coals, publicly humiliated and made to account for how those dollars would be spent? Has he been asked whether he flies by private jet? Nope. No calls for his resignation.
Now, I'm not arguing Citi shouldn't have gotten the money. Frankly, Citi's survival may be more important to the economy as a whole, as some have argued.
Don't Miss
But we damn sure ought to be holding all of these companies and all the managers who have screwed up these companies to the same standards.
They are all asking for a government handout. They are all asking for your tax dollars. They all need to be held accountable.
The opinions expressed in this commentary are solely those of Campbell Brown.
E-mail to a friend

All About General Motors Corporation • Chrysler LLC • Citigroup Inc.