WASHINGTON (CNN) -- Defense Secretary Robert Gates is learning that becoming the first defense secretary to bridge two administrations can lead to some awkward moments.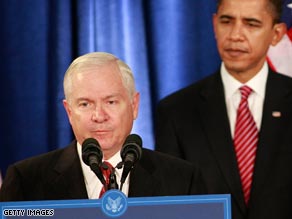 Defense Secretary Robert Gates stands at the microphones as President-elect Barack Obama looks on.
Last week, President-elect Barack Obama announced that he would keep Gates on to run the Pentagon.
But Gates still answers to President Bush. "There's only one commander in chief at a time," Gates said.
The defense secretary is not blind to the fact that his new boss and his transition team have demands, too, which leads to "occasional awkwardness," he said.
For example, Gates said there have been times he's had to choose between meeting with the transition team or meeting with members of the Bush administration.
Apparently the incoming president's staff wins out over the outgoing president's staff.
"Let's just say that if I'm faced with a choice between attending a principals' meeting on an issue that I think is not particularly hot and a meeting with the transition folks, I'll opt for the latter," Gates said.
But President Bush doesn't have to worry about being ignored.
"I'm not forgetting at all for a second who is the president until noon on January 20," Gates said. "I haven't missed any meetings with the president, let me put it that way."
Don't Miss
Gates has had "several telephone calls" with the president-elect to talk about personnel to replace the outgoing political appointees, he told reporters traveling with him on a trip overseas.
"We really haven't sat down yet for a thorough discussion of specific foreign policy issues, national security issues," Gates told the traveling reporters, according to a transcript.
He's also met with Vice President-elect Joe Biden, who was in town Monday to meet with the defense secretary and the incoming nominee for Secretary of State Hillary Clinton.
E-mail to a friend

All About Robert Gates • Barack Obama • George W. Bush