(CNN) -- A law enforcement official connected to the investigation into Illinois Gov. Rod Blagojevich confirmed Wednesday that the person referred to in the criminal complaint against the governor as "Senate Candidate 5" is Rep. Jesse Jackson Jr.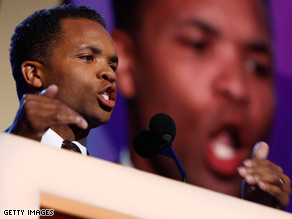 Jesse Jackson Jr. says he is confident he "engaged in no wrongdoing."
The law enforcement official said there was no evidence -- other than the governor's taped remarks -- that Jackson or others on his behalf ever approached the governor in an improper way.
The official also emphasized that no conversations with Jackson were ever picked up on bugs or wiretaps, and there is no evidence that he was aware of anything improper.
Jackson denied Wednesday participating in the "pay to play" politics federal prosecutors allege Blagojevich conducted in his search to fill President-elect Barack Obama's Senate seat.
"I want to make this fact plain: I reject and denounce pay-to-play politics and have no involvement whatsoever in any wrongdoing. I did not initiate or authorize anyone at any time to promise anything to Gov. Blagojevich," Jackson, an Illinois Democrat, said during a Capitol Hill press conference Wednesday.

Watch: Jackson denies involvement with Blagojevich »
Jackson said he was informed by the office of U.S. Attorney Patrick Fitzgerald -- tasked with investigating Gov. Blagojevich's alleged misconduct -- that he was not a target of the investigation.
"In the days ahead, federal law enforcement officials want to meet and discuss what I know about the Senate selection process," Jackson said. "I look forward to cooperating with the hardworking men and women of the United States Attorney's Office and the Justice Department."
Jackson said Blagojevich, "in the best interests of our state, should resign and forfeit his authority to make the Senate appointment."
While defending his innocence, Jackson said he was qualified to fill the vacant Senate seat in large part due to his previous experience in Washington.
Jackson noted he has missed only two votes during his 13 years in Congress, and has served in the U.S. House longer than almost all of the other members of the Illinois congressional delegation being mentioned as possible replacements for Obama.
"I thought, mistakenly, that the process was fair, above board and on the merits," Jackson said. "I thought, mistakenly, that the governor was evaluating me and other Senate hopefuls based upon our credentials and qualifications."
Don't Miss
Noting he met with Blagojevich for the first time in four years on Monday, Jackson said he "thought, mistakenly" that he "had a chance" for the Senate seat because he "earned it."
A criminal complaint released Tuesday details conversations Blagojevich allegedly had with potential Senate candidates, who are identified only by numbers. As sitting governor, it is Blagojevich's duty to appoint Obama's Senate replacement.
Jackson's attorney, James Montgomery Sr., told reporters Wednesday, "Everyone is speaking of Jesse Jackson Jr., as 'Senate Candidate 5.' My comments will assume that is the case."
Montgomery said he made his assumption based on conversations with U.S. Attorney Patrick Fitzgerald and information in the criminal complaint.
Montgomery said the U.S. attorney confirmed Jackson is not a target of the investigation and that Jackson never authorized anyone to seek the governor's support in exchange for anything.
Fitzgerald said none of the people mentioned as Senate candidates is accused of wrongdoing.
"People should not cast aspersions on people who are discussed on wiretap or bug tape," he said.
Fitzgerald's complaint against Blagojevich says the governor allegedly tried to garner money or jobs in exchange for awarding the seat.
Blagojevich is said to have called the open seat a "f---ing valuable thing" and something you don't give away "for nothing."
The complaint said that last week Blagojevich said he might be able to cut a deal with Candidate 5 "with something tangible upfront." The complaint also said that Blagojevich claimed an aide to Senate Candidate 5 said that candidate would raise $500,000 for the governor.
No one mentioned as a possibility for the seat is saying he or she is one of the unnamed candidates in the complaint.
Another candidate mentioned often in the criminal complaint is Senate Candidate 1.
This candidate is a female, an adviser to Obama and said to be the president-elect's top choice for the Senate seat.

Watch more on the Senate candidates »
Blagojevich allegedly says he knows the president-elect prefers this candidate but adds, "They're not willing to give me anything except appreciation."
This candidate could be Valerie Jarrett, because she's the only female adviser to Obama mentioned as a possibility for the seat and who dropped out of the running.

Watch what's in the complaint »
Prosecutors said that in a wiretapped call, Blagojevich said, "Unless I get something real good for [Senate Candidate 1], s---, I'll just send myself, you know what I'm saying."
There's nothing in the complaint to suggest that Jarrett had any conversations with Blagojevich.
According to the criminal complaint, Blagojevich said his decision on the open seat would be based on three things: "our legal situation, our personal situation, my political situation. This decision, like every other one, needs to be based upon on that: legal, personal, political."
Those legal problems could be solved, he is alleged to have said, by appointing himself to the post.
"I'm going to keep this Senate option for me a real possibility, you know, and therefore I can drive a hard bargain. ... And if I don't get what I want and I'm not satisfied with it, then I'll just take the Senate seat myself," he said, according to the criminal complaint.
CNN contacted several politicians widely reported to be on that list of possible Senate candidates.
U.S. Rep. Danny Davis, D-Illinois, also has been mentioned as a possible candidate. He said that in his dealings with Blagojevich, "Never ... has there been any hint of impropriety or quid pro quo." iReport.com: Do you trust your leaders?
Rep. Jan Schakowsky, D-Illinois, said she had spoken with Blagojevich about the job but said nothing untoward was said in that conversation. See who is on the Senate short list
Another candidate is Tammy Duckworth, director of the Illinois Department of Veterans Affairs. An aide to Duckworth said she never spoke or met with Blagojevich about the job.
Top lawmakers are calling on Blagojevich to resign, but as long as he sits as governor, he still has the power to name Obama's successor.
U.S. Sen. Dick Durbin of Illinois said he wants the state Legislature to pass a law that would set up a special election to fill Obama's former Senate seat.
E-mail to a friend

CNN's Brian Todd, Kelli Arena and Drew Griffin contributed to this report.
All About Rod Blagojevich • Illinois