By Ed Henry
CNN White House Correspondent
WASHINGTON (CNN) -- President-elect Barack Obama is likely to name Steven Chu, a physicist who runs the Lawrence Berkeley National Laboratory, as his energy secretary, three Democratic officials close to the transition said.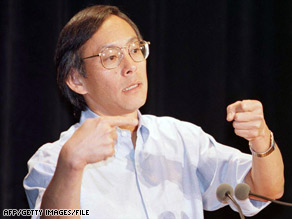 Steven Chu explains his Nobel-winning theory on superfreezing gases in 1997.
The three officials said the announcement is expected next week in Chicago, Illinois, and that Obama will also name Carol Browner, administrator of the Environmental Protection Agency in the Clinton administration, as the newly created "climate czar" inside the White House.
Chu won the 1997 Nobel Prize in physics and is highly respected in energy circles. But some Democrats have privately expressed concern that Chu has no political experience as he takes on the monumental task of passing a landmark energy reform bill early next year.
Although Browner is seen as a shrewd inside player who could help the incoming energy secretary navigate Capitol Hill, Obama will face questions about how effective his team will be going up against oil companies and other special interests that do not want to change the status quo.
"Energy is going to be a huge fight," one Democratic official said. "They need someone with the gravitas and force of personality to make it happen."
Democrats have privately floated some other big names for energy secretary in recent days, including California Gov. Arnold Schwarzenegger and former Secretary of State Colin Powell.
But a source close to Schwarzenegger said the governor wants to serve out the rest of his term.
A source close to Powell said the retired general will take "no formal Cabinet role" in an Obama administration but is leaving the door open to an informal troubleshooting role -- such as Mideast envoy -- if the incoming president has a specific mission that needs to be filled. iReport.com: What do you think of Obama's cabinet picks so far?
Energy is one aspect of the president-elect's one-year goal to create 2.5 million jobs by 2011. The plan, which Obama announced Saturday, aims to put Americans to work updating the country's infrastructure, making public buildings more energy-efficient and implementing environmentally friendly technologies, including alternative energy sources.
During his campaign, Obama said he would invest $150 billion over 10 years in clean energy. He proposed increasing fuel economy standards and requiring that 10 percent of electricity in the United States comes from renewable sources by 2012.
E-mail to a friend

All About Barack Obama • U.S. Department of Energy