By Ed Hornick
CNN

WASHINGTON (CNN) -- Illinois state politics read more like a script from "The Sopranos" than a page out of the history books.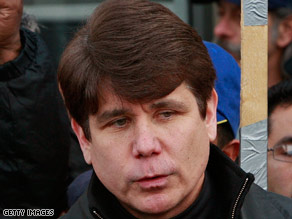 Illinois Gov. Rod Blagojevich is accused of scheming to sell Barack Obama's Senate seat to the highest bidder.
On Tuesday, Illinois Gov. Rod Blagojevich, a Democrat, and his chief of staff, John Harris, were arrested on federal corruption charges involving an alleged pay-for-play scheme to award Barack Obama's Senate seat to the highest bidder -- among other accusations.
Each was charged with a count of conspiracy to commit mail and wire fraud and a count of solicitation of bribery, authorities said. If convicted, the two could spend a maximum of 30 years in prison.
U.S. Attorney Patrick Fitzgerald called Blagojevich's actions a "political crime spree" and said his behavior would make Abraham Lincoln "roll over in his grave."
Lincoln, after all, is one of the state's most famous figures, having served as a congressman and later as president.

Watch: CNN's Ed Hornick discusses the story »
The FBI special agent in charge of the case, Robert Grant, went so far as to say that "if [Illinois] isn't the most corrupt state in the United States, it's certainly one hell of a competitor."

Watch more on the complaints against the Illinois governor »
But accusations of corruption like those against Blagojevich are nothing new to Illinois.
"Corruption is in the DNA of this state," said CNN contributor and Chicago resident Roland Martin. "The voters in this state, when I talk to people, since I have been here, they're pretty much like, 'You know what? This is what we expect.' "
And that DNA runs through the governor's office, dating back to the 1920s.
• GOP Gov. Lennington Small, who served the state from 1921 to 1929, was indicted for embezzlement -- but later acquitted.

• Democratic Gov. Otto Kerner, who served from 1961 to 1968, was convicted in 1973 on 17 counts of bribery, conspiracy, perjury and other charges before being sentenced to three years in prison.

• Democratic Gov. Dan Walker, who served from 1973 to 1977, was convicted nearly 10 years later, in 1987, on bank fraud charges.
• Gov. George Ryan, a Republican who served from 1999 to 2003, was convicted in April 2006 of fraud in a case stemming from bribes paid for various state licenses. The disgraced ex-governor reported to a federal prison in Wisconsin in November 2006 to serve a 6½-year sentence.

Interactive: See a full history of Illinois governors in hot water »
Illinois Democratic Sen. Dick Durbin recently supported calls for President Bush to commute Ryan's prison term.
And now, Blagojevich is the latest governor caught in a hurricane of political -- and criminal -- controversy.
But the corruption trend running throughout the state's history isn't limited to governors -- it has touched some congressmen and political power brokers too.
In April 1996, former Rep. Dan Rostenkowski, a Democrat, pleaded guilty to corruption charges, and served time in a federal prison.
The same year, a jury found four Chicago officials guilty on corruption charges related to awarding jobs to candidates and their staff.
And the case was led by a familiar face: U.S. Attorney Patrick Fitzgerald.
More recently, Antoin "Tony" Rezko -- whose named popped up the 2008 presidential campaign -- was convicted on 16 charges of wire and mail fraud, aiding and abetting bribery, along with money laundering. He was acquitted of attempted extortion.
Rezko, who contributed thousands to the campaigns of Obama and other Democrats, was accused of demanding kickbacks from companies seeking Illinois state business.
Obama, after being peppered with questions from the press on his ties, acknowledged he had accepted contributions from Rezko and bought property from the Chicago-based developer.
While Obama was not accused of wrongdoing, he vowed during the campaign to give up the contributions and called his home purchase a mistake.
But Blagojevich's recent troubles also shine the spotlight on Obama's ties to the Windy City.
"When you think about, just a little more than a month ago, this was Barack Obama's town," said Chicago Tribune political reporter Rick Pearson. "Chicago kind of escaped its reputation for corruption, and now you find Blagojevich and all of these tawdry allegations that are contained in this criminal complaint."
But Rep. Danny Davis, an Illinois Democrat, went a step further on the charges against Blagojevich, saying it was a "terrible day for the citizens of Illinois."
"But more importantly, it's a terrible day for the institution of government. And it undermines and erodes confidence that people have in government. And it's so unfortunate," he said Tuesday.
E-mail to a friend

All About Rod Blagojevich • Illinois