By Bob Greene
CNN Contributor

Award-winning writer Bob Greene rode CNN's Election Express across the country in the final weeks of the campaign before the Election Express parked in Chicago.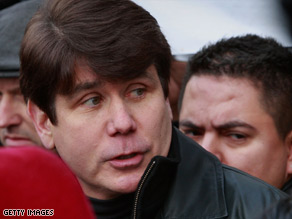 The arrest of Illinois Gov. Rod Blagojevich has deflated the mood Chicago felt after Obama's election.
CHICAGO, Illinois (CNN) -- Well, that was quick.
On Election Night in Chicago, people in the immense crowd in Grant Park were talking about how the victory of Barack Obama might do the impossible: change forever the international political image of Illinois, make the world forget about the corruption that has for so long been associated with politics in the state, and particularly with politics in Chicago.
So much for that.
That was a warm and balmy November night in Grant Park -- which in itself should have told you something: the shirtsleeves-in-November feeling had a when-pigs-fly quality to it -- but this week there is sleet and wind and snow, a Chicago December week fit for neither man nor beast, which is to say: the usual, the expected. And in the federal courthouse just a few blocks from the Grant Park scene of civic pride and celebration, the weather had changed in more than the meteorological sense.
"I've got this thing, and it's [expletive] golden," Illinois Gov. Rod Blagojevich is alleged to have said in a telephone call recorded by federal law enforcement authorities. The golden thing he referred to was the power to name the United States senator who will replace President-elect Obama. Blagojevich's arrest was based, in part, on the belief by the government that he was doing his best to sell that golden thing. Obama's former seat, Blagojevich is alleged to have said, is "a [expletive] valuable thing, you just don't give it away for nothing."
But of course, you do -- or at least you are supposed to. Seats in the United States Senate are one of the dwindling numbers of American commodities that are not supposed to be for sale.
All of this, though, you already know -- you've read about the charges. The parallel story is what this will do to Chicago's, and Illinois', new, fragile, upbeat political reputation, the one that supposedly was born in Grant Park on that teasingly spring-like night.
The CNN Election Express bus, aboard which we spent the fall crisscrossing the United States, is parked in downtown Chicago during the presidential transition, and some of the people with whom we have spoken here in the weeks since Election Day have told us what they believe the worldwide opinion of Chicago has long been. "Gangs. Mobsters. Capone," a woman named Kim Clay, who was born in the city's Albany Park neighborhood, told us. "The White Sox, the Cubs, and corruption," her husband, Mike Clay, who was born in the Brighton Park neighborhood, said.
Don't Miss
They said they were hopeful -- but skeptical -- that the election of Obama might alter that stereotype. It has been several weeks since we spoke with and reported on them, and today it seems that their skepticism was well considered.
There has always been a funny thing about Chicagoans: The same way that some residents of New Jersey -- who would never in their personal lives associate with the crime syndicate -- nevertheless took a backhanded and winking kind of semi-pride in the image of their state that "The Sopranos" gave to the world, so it is that many people in Illinois have passively accepted, while not endorsing, the heritage of crooked politics. It's the dead-men-vote syndrome: The world outside of Illinois found the political culture here to be, from a distance, exotic and colorful, so it became an inherited part of the city's and the state's outsized personality.
Thus, when Blagojevich was taken into custody yesterday, some Chicagoans instinctively noted an unusual fact about it: not that an Illinois governor was arrested, but that he was arrested at home. Usually, they observed, elected officials around here are allowed to turn themselves in.
This case feels different from others, though, right down to the words spoken by U.S. Attorney Patrick Fitzgerald and FBI Special Agent in Charge Robert Grant. Some of their phrases were the kind that headline writers and newspaper columnists in Chicago used to write during replate-the-five-star moments like these: "Political corruption crime spree," "Truly a new low," "The conduct would make Lincoln roll over in his grave," "If it isn't the most corrupt state in the United States, it's certainly one hell of a competitor." There can be no such thing as hyperbole this week; overstatement is an impossibility.
Whatever the Chicago air felt like in Grant Park on Election Night, it seems to have been blown away by a rapidly moving political cold front. What were those famous words at the end of the great Jack Nicholson movie, the world-weary words that explained everything?
"Forget it, Jake. It's Chinatown."
Full winter, in more ways than one, has arrived here. That deceptive warmth that so recently paid a visit?
Forget it.
It's Chicago.
E-mail to a friend

All About Rod Blagojevich • Chicago • Barack Obama