From Dana Bash
CNN
WASHINGTON (CNN) -- Mike Duncan plans to seek another term as chairman of the Republican Party, a post that already has drawn several high-profile candidates seeking to replace him, a source close to Duncan said Tuesday.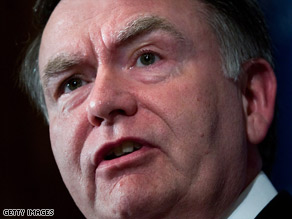 GOP chairman Mike Duncan will face opposition from members of his own party in his re-election bid.
Duncan will officially announce his plans in an early morning e-mail and Internet video to Republican National Committee members Wednesday, the source said.
The chairman told CNN last week that he was torn about whether to try to retain his post. Duncan said he was going to spend the weekend at home in Kentucky before making his decision.
Duncan, a longtime RNC member, rose through the party's ranks to become its chairman after GOP losses in 2006.
Duncan's major obstacle to keeping the job will be the desire for new blood at the helm of the GOP after stinging defeats in two straight elections.
Several Republicans, including former Maryland Lt. Gov. Michael Steele, Michigan GOP Chairman Saul Anuzis and South Carolina GOP Chairman Katon Dawson, have already announced bids to replace him.
E-mail to a friend

All About Republican Party