By Alexander Mooney
CNN

WASHINGTON (CNN) -- With former Vice President Al Gore at his side, President-elect Barack Obama said Tuesday it's time the issue of climate change is dealt with in a "serious way."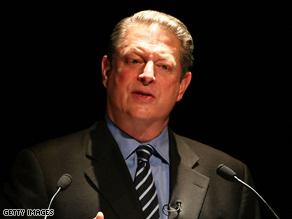 Ex-Vice President Al Gore, speaking last month in Tokyo, Japan, talks regularly with Barack Obama, aides say.
"The time for delay is over, the time for denial is over," the president-elect told reporters after the private meeting with Gore and Vice President-elect Joe Biden.
Obama did not specifically say what role Gore would play on the issue of climate change, though he pledged to work with "a whole host of stakeholders on this issue, including Vice President Gore."
Shortly before the scheduled meeting, a spokeswoman for Gore said the former vice president, who reportedly sought the sit-down with Obama, was not seeking an official position in the new administration. But the announcement of the meeting on Monday immediately unleashed speculation about what Gore's exact role in an Obama White House might be.
Speaking to reporters Tuesday, Obama said the purpose of the meeting was to hear Gore's positions on a host of environmental issues and his ideas for how new environmental polices can spur job creation and jumpstart the economy.
"We have the opportunity now to create jobs all across this country, to re-power America, to redesign how we use energy, to think about how we are increasing efficiency, to make our economy stronger, make us more safe, reduce our dependence on foreign oil, and make us competitive for decades to come, even as we are saving the planet," Obama said.
While Gore's exact role remains unclear, Democratic officials have made clear Obama is not looking to tap him for a Cabinet-level post or any formal position in the administration.
"Vice President Gore feels now that his calling really is to educate Americans about the climate crisis," Gore spokeswoman Kalee Kreider said Tuesday morning.
"He served for 30 years in electoral politics in the House, Senate and as vice president and surely understands the great importance of serving in those types of roles and in public service, but just feels now that his calling is in educating the public and in the roles that he's serving now at the Alliance for Climate Protection."
But the former vice president's high-profile visit to Chicago, Illinois, raised eyebrows, even among some of Gore's close advisers.
"The Gore trip is for more than just a chat," a close friend of Gore's told CNN's John King. "He wouldn't burn that much carbon flying to Chicago just to talk."
Gore has stayed in the spotlight since his failed presidential bid, winning a Nobel Peace Prize last year for his work to raise awareness on the dangers of global warming. The former vice president's documentary on climate change, "An Inconvenient Truth," also won two Oscars in 2007.
Obama, who eagerly courted Gore's endorsement during the heated presidential race, has long said he would welcome the Democratic elder into his White House, at least as an informal adviser.
"I will make a commitment that Al Gore will be at the table and play a central part in us figuring out how we solve this [climate change] problem," Obama said in April.
While Tuesday marks the first time Gore sat down with the president-elect since Election Day, the two regularly speak, aides have said. The meeting comes as the Obama transition team turns its focus toward naming its energy secretary and Environmental Protection Agency administrator -- two key posts that remain vacant.
The meeting also comes days after the president-elect unveiled an ambitious one-year goal to put 2.5 million Americans to work updating the country's infrastructure and implementing environmentally friendly technologies, including alternative energy sources.
Gore sat on the sidelines during the prolonged Democratic primary process, refusing to endorse a candidate until the outcome became clear -- a move viewed by some as a snub to Sen. Hillary Clinton, who was then engaged in a closely fought race with Obama.
The former vice president made his debut on the campaign trail days after Clinton formally conceded, hailing Obama as a leader able to transcend Washington's poisonous partisanship.
"For America to lead the world through the dangers we're facing, to seize the opportunities before us, we've got to have new leadership," he said then. "Not only a new president but new policies. Not only a new head of state but a new vision for America's future."
E-mail to a friend

All About Barack Obama • Al Gore