By Roland S. Martin
Special to CNN
Editor's note: A nationally syndicated columnist, Roland Martin is the author of "Listening to the Spirit Within: 50 Perspectives on Faith" and "Speak, Brother! A Black Man's View of America." Visit his Web site for more information.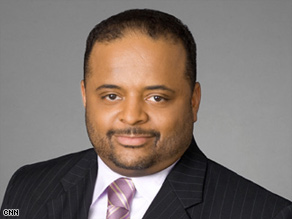 Roland Martin says it's time for Illinois to end to the embarrassing tradition of graft.
CHICAGO, Illinois (CNN) -- Since moving to Chicago 4½ years ago from Texas, I've been amazed to watch the political machinations in this state, and see how easy it is for residents to dismiss the rampant corruption of some political officials as nothing more than the cost of doing business.
In fact, listen to the political pros and they will readily say, "Oh, you think that is off the chain? Well, let me tell you about so-and-so who took money from everybody!"
The fact is, the vast majority of politicians in the Land of Lincoln are well-meaning people who truly care about the public trust and don't sell their office to the highest bidder. But when you have future politicians raised in the "Chicago way" or "Illinois way" of how to be a politician, it is reasonable to expect to see this kind of stuff.
Gov. Rod Blagojevich's alleged corrupt effort to sell the U.S. Senate seat of President-elect Barack Obama has tongues wagging nationwide, but here are a few other political rogues you may have missed:
Don't Miss
• Former Alderman Arenda Troutman pleaded guilty this year to mail fraud and income tax evasion after federal officials accused her of accepting bribes for a project in her ward. She was busted on tape in a sting about the fictitious development, allegedly asking, "What do I get out of it?" and adding, "Most aldermen, most politicians are hos."
• Former City Clerk James J. Laski was charged in January 2006 and later convicted and sent to the federal pen for accepting thousands of dollars, as well as obstructing justice, in the city's infamous Hired Truck scandal, in which private truck operators were paid for city work. Multiple defendants went to jail and had to repay millions in the scandal, which was broken by the Chicago Sun-Times.
• Former Gov. George Ryan gained national prestige for putting a moratorium on the death penalty, but that didn't keep him out of prison after the feds convicted him in April 2006 of steering state contracts to friends for bribes, as well as using his office for political gain. Sen. Dick Durbin is seeking a commutation of Ryan's 6½-year sentence from President Bush.
• Robert Sorich, the former patronage chief of Chicago Mayor Richard Daley, and three other city officials were convicted in July 2006 of using their positions to award jobs to Daley supporters and campaign workers.
• Former Cicero, Illinois, Town President Betty Loren-Maltese and six others were convicted in a $12 million scam. One of the six was a reputed Mafia boss in the town.
I could spend another 5,000 words writing about the numerous aldermen, city officials, state officeholders and others who have gone to state and federal prison for their misdeeds.
But at what point do the citizens of the state say enough is enough? Part of the problem in Illinois is that graft has become an accepted practice, but as long as things are working well, what the hell.
I remember one Chicago official getting an earful about the misdeeds in the office of Mayor Daley, and the response was, "What are you complaining about? The city's streets are clean and the flowers downtown are looking good. Why mess up a good thing?"
Never mind the estimates that city residents have been cheated out of upwards of $1 billion due to the Hired Truck scandal, lawsuits and political hiring. Hey, if the trains keep running on time, who cares how much stuff is being tossed off the side?
Illinois residents -- and those politicians who are sick and tired of folks stealing from citizens -- need to call for an all-out war on corruption and demand that the state attorney general, city prosecutors and federal prosecutors attack it on all fronts.
These are trying times, and with budget cuts forcing important services to be slashed, every dollar counts. The day for excusing this behavior is over. "That's the way we've always done it" should be replaced with "This is the way we are going to do it now."
And yes, the old adage still applies -- "If you're not a part of the solution, you're part of the problem."
Especially in the state where Honest Abe got his start in politics.
The opinions expressed in this commentary are solely those of Roland Martin.
E-mail to a friend

All About Rod Blagojevich • Chicago • George Ryan