From Paul Steinhauser
CNN
WASHINGTON (CNN) -- -- With six weeks before taking office, President-elect Barack Obama is having one heck of a honeymoon, a new national poll suggests.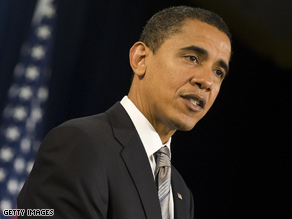 A new CNN poll gives Barack Obama a 79 percent approval rating in the way he's handling the transition.
Nearly eight in 10 Americans questioned in a CNN/Opinion Research Corporation survey out Tuesday morning are giving the president-elect the thumbs up when it comes to his handling of the transition.
Seventy-nine percent approve of Obama's performance so far during transition, with 18 percent disapproving.
Obama's approval rating is 14 points higher than the approval rating for President-elect George Bush in 2001 and 17 points higher than President-elect Clinton's rating in 1992, CNN Polling Director Keating Holland said.
Obama's current approval rating is also more than 50 points higher than President Bush's current approval rating, which now stands at 28 percent --- with 71 percent disapproving of the way Bush is handling his job as president.
"An Obama job approval rating of 79 percent -- that's the sort of rating you see when the public rallies around a leader after a national disaster," said Bill Schneider, CNN's senior political analyst. "To many Americans, the Bush administration was a national disaster." iReport.com: Dear Mr. President...
The poll indicates that 79 percent of the public thinks Obama will do a good job as president -- up 4 percentage points from last month. Eighteen percent think Obama will do a poor job as president, down 3 points from November.
And 78 percent of those questioned said they believe Obama will be a uniter -- 20 points higher than those who felt the same way about then President-elect Bush in 2000. Twenty percent say Obama will be a divider, 16 points lower than those who said the same about Bush.
"Bush came in promising to be a uniter, not a divider. That's a promise Bush failed to deliver -- as he himself acknowledged last week in an interview with ABC News when he said that one of his big disappointments is that the tone in Washington got worse rather than better," Schneider said.
"Nearly 80 percent describe Obama as a uniter. So far, so good."
Seventy-six percent of those polled have a favorable opinion of Obama. "And the president-elect is not the only one who is popular right now. Sixty-seven percent have a favorable view of Michelle Obama and 56 percent have a positive view of Vice President-elect Joe Biden," added Holland.
The Democratic party continues to be much more popular than the GOP. Six in 10 have a favorable view of the Democratic Party, while a majority have an unfavorable opinion of the Republican party.
The CNN/Opinion Research Corporation poll was conducted December 1-2, with 1,096 adult Americans interviewed by telephone. The survey's sampling error is 3 percentage points.
E-mail to a friend

All About Barack Obama • Michelle Obama • George W. Bush • Joseph Biden