(CNN) -- President-elect Barack Obama's team has pledged to appoint Republicans to his administration, but so far, just one Republican is set to hold a leading Cabinet post.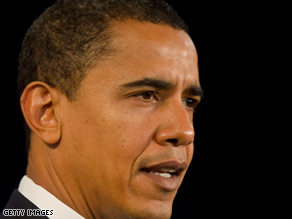 President-elect Barack Obama still has some key staffing decisions to make.
Obama last week announced that he wants Defense Secretary Robert Gates to stay on board for at least another year.
Asked if Gates meets the requirement for a Republican on the Cabinet, Obama said he didn't "check his voter registration."
"What I was most concerned with was whether or not they can serve the interests of the American people," Obama said.
Gates has said he has not registered with a political party, but considers himself a Republican.
John Podesta, co-chairman of the transition team, has said there will be "multiple Republicans" in the incoming administration.
While Obama has steadily rolled out his picks for the incoming administration, there are still key vacancies left to fill -- and still opportunities for Republicans to land major positions.
Some of the jobs still open include energy secretary, labor secretary, CIA director, director of national intelligence, interior secretary, education secretary and transportation secretary, among others.
There's speculation that Obama could go with Republican Arnold Schwarzenegger for his energy secretary. The California governor has a strong energy record in his state.
Schwarzenegger's time as governor is up in 2010, and he cannot seek re-election because of term limits.
Asked about potentially filling the Cabinet post in an interview this past summer, Schwarzenegger said that while his focus is on California, he's "always ready to help in any way" he can.
"If I have this position or not, I will be traveling around the world, and I will be promoting the energy independence, renewables, solar, windmills, all of those kinds of things, protecting the environment, protecting our oceans. All of those things I will do anyway," he told ABC's "This Week."
Carol Browner, President Bill Clinton's Environmental Protection Agency administrator, and Michigan Gov. Jennifer Granholm also are possible contenders for the energy secretary post.
Another big opening -- chief technology officer -- is a newly created position. The transition team says this post will be charged with ensuring that the government has the right "infrastructure, policies and services for the 21st century."
Obama's presidential campaign developed a reputation for harnessing technology and the Internet to mobilize its grass-roots movement. Democratic strategist Lisa Caputo says this position will help Obama use the Internet to keep that movement going strong.
One name generating buzz for this position is Vinton Cerf, the vice president of Google.
Obama, who will be inaugurated January 20, started naming key staff members just two days after the election, announcing Rep. Rahm Emanuel as his chief of staff.
Obama also has named Sen. Hillary Clinton as his pick for secretary of state, New Mexico Gov. Bill Richardson as his choice for secretary of commerce and retired Marine Gen. Jim Jones as his pick for national security adviser.
Sources close to the transition confirmed last month that former Sen. Tom Daschle is Obama's choice to be secretary of Health and Human Services, but the president-elect has not yet made the formal announcement.
Obama also was quick to announce his economic team, which in addition to Richardson includes Timothy Geithner as treasury secretary, Larry Summers as chief of the National Economic Council and Peter Orszag as director of the Office of Management and Budget.
Eric Holder, the deputy attorney general under Clinton, is Obama's choice for attorney general.
The president-elect has chosen Arizona Gov. Janet Napolitano as his homeland security secretary, and just this weekend, Obama announced retired Gen. Eric Shinseki as his pick for secretary of Veterans Affairs.
E-mail to a friend

All About Barack Obama