From Paul Steinhauser
CNN Deputy Political Director

WASHINGTON (CNN) -- Call it a split decision.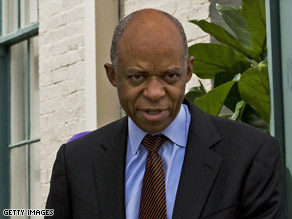 Nine-term Democratic Rep. William Jefferson was defeated in his re-election bid this year.
Both Democrats and Republicans each captured a congressional seat from the other party this weekend, with two races remaining in the battle for the House of Representatives.
In Ohio's 15th Congressional District in the central part of the state, Democrats captured a seat that was held by Republicans for 42 years. For the last 16 of those years, it's been held by eight-term Republican Rep. Deborah Pryce, who's retiring.
Mary Jo Kilroy, a county commissioner, came from behind to defeat Republican Steve Stivers by more than 2,000 votes when the final results were released Sunday.
Kilroy came back from an election day deficit of nearly 600 votes, after provisional ballots were counted from Franklin County, where the state capital of Columbus is located. The counting of the provisional ballots proceeded after a ruling by the Ohio Supreme Court on Friday.

Watch more on the undecided races »
Stivers, who's a state senator, conceded to Kilroy shortly after the results were released. He also wished her well in Washington.
Kilroy came close to defeating Pryce for the seat in 2006.
Don't Miss
"After an extremely close 2006 race, there was no doubt this seat was vulnerable. This could have been an easy Democratic takeover, but Stivers ran a strong campaign," said Nathan Gonzales, political editor of The Rothenberg Political Report, a nonpartisan newsletter.
While Democrats grabbed the seat in Ohio, they lost one in Louisiana, where nine-term Rep. William Jefferson was defeated in his re-election bid by Republican Anh "Joseph" Cao, an attorney and local organizer. Cao becomes the first Vietnamese-American to win election to Congress. He also breaks a streak of more than a century of Democratic control in New Orleans.
Turnout was extremely low, and that may have contributed to Cao's two-point victory in a district that's heavily African-American and overwhelmingly Democratic.

Watch more on the new faces coming to Washington »
The election was originally scheduled for November 4, but Hurricane Gustav delayed the political process.
"It's a cliché, but turnout is key in these kinds of races," Gonzales said.
Jefferson's own political baggage may have also contributed to his defeat. He's been indicted on federal corruption charges and faces trial. The corruption probe became public three years ago, when his home and offices were raided by FBI agents who say they found $90,000 in alleged bribe money in his freezer.
The election in Louisiana's 2nd Congressional District was one of two in the state this weekend. In the other, in the 4th Congressional District in the northwest part of the state, it appears the GOP will keep the seat held by 11-term Rep. Jim McCrery, who's retiring.
Republican John Fleming appears to have defeated Democrat Paul Carmouche by just 356 votes. Some absentee ballots remain to be counted, and Carmouche has yet to concede.
The state is expected to certify the results Wednesday.
That will leave Virginia's 5th Congressional District as the last unsettled race. Republican incumbent Rep. Virgil Goode has asked for a recount after losing on Election Day by less that 750 votes to Democrat Tom Perriello.
With Louisiana's 4th Congressional District and Virginia's 5th Congressional District still pending, Democrats will control 256 seats in the new House, and Republicans will have 177.
Going into the November election Democrats controlled 235 seats to the Republicans' 199, with one seat vacant.
"When you combine the 30 seats the Democrats won in the 2006 midterm elections, and the pickups so far this year, as a two-election cycle, the Democrats have been stunningly successful," said Stuart Rothenberg, editor and publisher of The Rothenberg Political Report.
E-mail to a friend

All About U.S. House of Representatives • William Jefferson • Virgil Goode