By Campbell Brown
CNN

Editor's note: Campbell Brown anchors CNN's "Campbell Brown: No Bias, No Bull" at 8 p.m. ET Mondays through Fridays. She delivered this commentary during the "Cutting through the Bull" segment of Monday night's broadcast.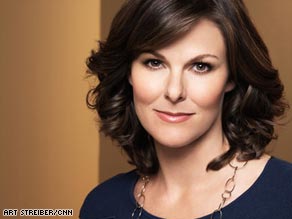 CNN's Campbell Brown says "there is no possible way to justify" CEO Jeff Thain's $10 million bonus request.
(CNN) -- You know, it may be we have been looking at the economic picture all wrong.
The notion that perhaps things really aren't so awful as all that popped into our heads today when we heard the CEO of Merrill Lynch was putting in for a $10 million bonus for 2008 -- mostly because, in 2008, he adeptly held Merrill Lynch down to a loss of only $11.67 billion.
Now, put it in context. This was at a time when Wall Street rivals like Lehman Brothers and Bear Stearns collapsed entirely.
John Thain is the CEO we are talking about, and he also argued he was able to arrange the sale of Merrill Lynch to Bank of America during these troubled times. And that orchestrating the sale of an outfit that had lost more than $11 billion surely ought to be worth some big bonus cash.

Watch Campbell Brown's commentary »
'No bias, no bull'
Get the latest on the day's main events on "Campbell Brown: No Bias, No Bull"
8 p.m. ET Monday through Friday on CNN

One of my neighbors worked for Merrill Lynch, and she recently got laid off.
Literally thousands of Merrill employees are likely to be let go because of the sale to Bank of America. And the CEO wants a $10-million bonus.
Is it me or is this guy nuts?
This was all front page news in The Wall Street Journal today, and because of that, I'm guessing, by late this afternoon Mr. Thain came to his senses and withdrew his bonus request. iReport.com: How is the automaker crisis affecting you?
Being publicly hung out to dry can be quite a motivator.
Look, Mr. Thain may well have inherited a mess of a company.
Don't Miss
He may have done an admirable job of limiting the losses and he may be paying for the mistakes of his predecessors.
But that's life.
That is the world we all now live in and newsflash, Mr. Thain, we are all now paying for the mistakes of Wall Street big shots like your predecessors.
Every single tax-paying American.
We are glad you came to your senses because in this current environment there is no possible way to justify a request like this.

The opinions expressed in this commentary are solely those of Campbell Brown.
E-mail to a friend

All About Hillary Clinton • Barack Obama