By Paul Steinhauser
CNN Deputy Political Director

WASHINGTON (CNN) -- Four weeks and four days after the November 4 elections, it's Election Day all over again in Louisiana.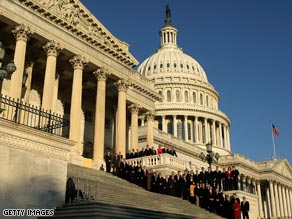 Four congressional races have yet to be decided.
In what should be the last two federal contests of 2008, elections are being held Saturday in Louisiana's 2nd and 4th Congressional Districts, where the political process was delayed because of Hurricane Gustav.
The race in the fourth district is to replace retiring 10-term Republican Rep. Jim McCrery. Democrat Paul Carmouche is facing off against Republican John Fleming in a campaign that's now attracting national attention and money.
"It's a Republican-leaning district, but the Democrats nominated another moderate candidate," said Stuart Rothenberg, editor and publisher of The Rothenberg Report, a nonpartisan political newsletter. "They hope to use the same formula that worked well in other conservative districts on November 4th."
In the 2nd Congressional District, nine-term Democratic Rep. William Jefferson is running for re-election against Republican Anh "Joseph" Cao. Jefferson has been battling scandals and a federal indictment for the past three years, but the district, in and around New Orleans, is mostly African-American and heavily Democratic, and Jefferson appears to be favored to win re-election.
President-elect Barack Obama has recorded a radio ad on behalf of Carmouche but has stayed quiet when it comes to Jefferson's re-election bid. A Jefferson spokesman says the congressman hasn't asked Obama for such help.
Outside Louisiana, in two other districts, vote counts are in dispute. In Virginia's 5th Congressional District, Republican Virgil Goode is calling for a recount. The nine-term congressman trails Democrat Tom Perriello by 745 votes out of nearly 310,000 cast.
And the battle to succeed eight-term GOP Rep. Deborah Pryce in Ohio's 15th Congressional District is headed to court. Republican Steve Stivers leads Democrat Mary Jo Kilroy by 149 votes out of nearly 260,000 cast. Ohio's Supreme Court will rule on whether to count thousands of disputed provisional ballots.
But at least one fight whose results were up in the air nearly a month after voters headed to the polls has officially drawn to a close, with the GOP holding on to a closely contested House seat.
Republicans kept a seat in northern California when Democrat Charlie Brown conceded defeat Tuesday to Republican state Sen. Tom McClintock in the battle for California's 4th Congressional District. Brown's concession came a day after the counties in the district turned in their final vote counts.
Those tallies gave McClintock a lead of more than 1,500 votes out of nearly 370,000 cast. Given his narrow loss, Brown could have asked for a recount, but opted to concede. The seat was held by retiring nine-term Republican Rep. John Doolittle, who was under investigation in connection with the Jack Abramoff lobbying scandal.
This is Brown's second straight narrow defeat in a race for Congress. He ran against Doolittle in 2006, losing by only 7,000 votes.
The district is mostly rural, and registered Republicans outnumber registered Democrats. John McCain beat Obama in the district by a double-digit margin.
With the California race settled, Democrats will have a 255-to-176 edge in the new Congress, pending the resolution of the four remaining races. Democrats had a 235-to-199 margin over Republicans heading into the election, with one seat vacant.
"When you combine the 30 seats the Democrats won in the 2006 midterm elections, and the pickups so far this year, as a two-election cycle, the Democrats have been stunningly successful," Rothenberg said.
E-mail to a friend

All About U.S. House of Representatives • William Jefferson • Jack Abramoff