By Bill Mears
CNN Supreme Court Producer
WASHINGTON (CNN) -- The Supreme Court will again look at a key component of the government's anti-terror strategy, agreeing Friday to hear the appeal of the only "enemy combatant" held in the United States.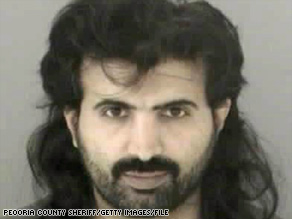 Ali Saleh Kahlah al-Marri was a student at Bradley University in Illinois when he was arrested in 2001.
Ali Saleh Kahlah al-Marri, a Qatar native, has been in U.S. custody for seven years, but his status remains in legal limbo. He is accused of, but has never been charged with, being an al Qaeda "sleeper agent."
Since his initial arrest on credit card fraud charges in December 2001, al-Marri -- a 43-year-old resident alien -- has remained in "virtual isolation in the brig," his attorneys said. They are suing the government to improve his jail conditions and are challenging the constitutionality of his detention.
Oral arguments in the case probably will be held in February or March.
The case could pose an unusual legal dilemma for the high court and the current and incoming administrations.
President Bush ordered al-Marri confined in military custody, and the Justice Department has been filing appeals opposing al-Marri's legal claims.
But the high court would hear the case in the early days of Barack Obama's administration, and his lawyers probably would be the ones to argue it. Whether Obama would change al-Marri's status and the government's entire legal position remains to be seen.
At issue is whether the Authorization for Use of Military Force -- passed by Congress after the September 11, 2001, attacks -- gives the president the power to order the indefinite military detention of an accused terrorist seized on domestic soil.
Al-Marri arrived in the United States the day before the 2001 terrorist attacks, as a computer science graduate student at Bradley University in Peoria, Illinois. He had earned an undergraduate degree there a decade earlier.
Weeks later, he was arrested after authorities found in his home hundreds of credit card numbers belonging to others.
At an early court hearing, a prosecutor said al-Marri was believed to be an associate of al Qaeda, the Islamic terrorist group responsible for the 9/11 attacks. The case against al-Marri escalated when investigators further examined his computer and interrogated al Qaeda detainees, the government says.
Although al-Marri was never charged with terrorism-related offenses, Bush in June 2003 issued a formal declaration naming him an "enemy combatant" and transferring him to military custody. That move sent him out of the normal criminal justice system and into indefinite military detention.
The declaration alleges al-Marri engaged in "hostile and warlike acts" working as an "al Qaeda sleeper agent" who was planning to "hack into the computer systems of U.S. banks" for a possible follow-up to the 9/11 attacks.
The Pentagon says he had trained at a terror camp in Afghanistan, met al Qaeda leaders Osama bin Laden and Khalid Sheikh Mohammed, and "volunteered for a martyr mission," according to the government's filing with the high court.
He remains at the Navy brig in North Charleston, South Carolina, where his lawyers complain he is kept in a 9-by-6-foot cell and allowed little contact with the outside world. They say he has been allowed only two phone calls with his family, both earlier this year.
Military officials deny any mistreatment.
A federal appeals court in July issued a divided ruling on al-Marri's constitutional claims. The panel, in a 5-4 vote, said the administration has the authority to detain suspected enemy combatants in the United States, but has to give them an adequate chance to challenge their continued imprisonment. The judges said that in this case, al-Marri had been denied due process.
In their appeal, al-Marri's lawyers urged the high court to act quickly.
"A ruling by this court that such a detention is unlawful would put an immediate end to this action, avoid what may be years more of extensive district court and appellate proceedings, and still allow the government the option of pursuing a criminal prosecution," said lead attorney Jonathan Hafetz.
The Justice Department has said it would be premature for the Supreme Court to intervene, suggesting the case be thrown back to a federal judge again for further review of al-Marri's legal claims.
The case is al-Marri v. Pucciarelli (08-368).
E-mail to a friend

All About September 11 Attacks • Al Qaeda • U.S. Supreme Court