WASHINGTON (CNN) -- Eric Holder, President-elect Barack Obama's nominee for attorney general, met Wednesday with 12 retired generals and admirals to discuss changing the U.S. government's current interrogation and detention policies.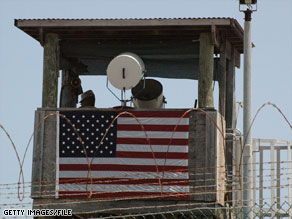 President-elect Barack Obama has called for the closure of the military facility at Guantanamo Bay, Cuba.
All 12 retirees have been critical of the Bush administration's endorsement of enhanced interrogation techniques, including highly controversial practices such as waterboarding.
They have instead urged the adoption of a single -- and less controversial -- standard of interrogation and detainment across all intelligence and other agencies.
Holder was joined at the meeting by prominent Washington lawyer Greg Craig, Obama's choice for White House counsel, and Mary De Rosa, a member of Obama's national security transition team.
The meeting was requested by the New York-based group Human Rights First.
"It is (important that) the new president say up front that the United States is not going to engage in torture or enhanced interrogations," retired Rear Adm. John Hutson, one of the participants in the meeting, said during an appearance on "CNN Newsroom."
Not only are such techniques generally ineffective, Hutson said, but they also "smear the good name of the United States, domestically and internationally."
Don't Miss
Hutson also indicated that some of the inmates currently housed at the military detention facility at Guantanamo Bay, Cuba, "should be treated like any other criminal" and tried in a U.S. district court.
During the presidential campaign, Obama indicated his intention to close the Guantanamo Bay detention facility and re-examine the Bush administration's policies relating to the interrogation and torture of suspected terrorists.
"I have said repeatedly that I intend to close Guantanamo, and I will follow through on that," Obama said during a recent appearance on CBS's "60 Minutes."
"I have said repeatedly that America doesn't torture. I'm going to make sure that we don't torture. Those are part and parcel of an effort to regain America's moral stature in the world."
E-mail to a friend

CNN Supervising Producer Adam Levine contributed to this report.
All About Guantanamo Bay • Torture