By Campbell Brown
CNN
Editor's note: Campbell Brown anchors CNN's "Campbell Brown: No Bias, No Bull" at 8 p.m. ET Mondays through Fridays. She delivered this commentary during the "Cutting through the Bull" segment of Thursday night's broadcast.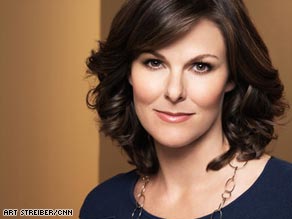 CNN's Campbell Brown comments on a Massachusetts trooper who ticketed a pregnant woman seeking help.
(CNN) -- A pregnant woman and her husband are rushing to the hospital in the breakdown lane of a Massachusetts highway.
The story comes from the Boston Globe. Yes, the couple is going fast. Yes, they're in the breakdown lane. But the woman is in labor, there's a big traffic jam, and they're in a considerable hurry for fairly obvious reasons.
So they pull up behind a state trooper to ask for his help in getting to the hospital. Do they get his help? They do not. They get a ticket instead, for $100, and have to wait while the cop finishes the ticket he was already writing for someone else.
'No bias, no bull'
Get the latest on the day's main events on "Campbell Brown: No Bias, No Bull"
8 p.m. ET Monday through Friday on CNN

And after this woman in labor and her husband have been made to cool their heels and have been slapped with a $100 dollar ticket -- after all that -- the trooper tops it off by asking Jennifer Davis, the woman in question, to prove she was pregnant.

Watch Campbell Brown's commentary »
According to Jennifer Davis, the trooper said, "what's under your jacket?" She said, "my belly." To which the trooper responded, "okay, let's see it." She was wearing a jacket, it seems, and so perhaps this intrepid law enforcer thought she and her husband were stealing a very large beach ball or something.
Don't Miss
Anyway, Jennifer did make it to the hospital with time to spare, and our purpose here is not to heap scorn on the particular trooper who ticketed and slowed down and humiliated a woman while her contractions were three minutes apart. That's why we're not using his name.
Just consider this a memo to the Massachusetts State Police. You ought to check your troopers' hats. One of them is wearing one that's way too small.
The opinions expressed in this commentary are solely those of Campbell Brown.
E-mail to a friend