By Leslie Sanchez
CNN Contributor
Editor's Note: Republican Leslie Sanchez was director of the Bush White House Initiative on Hispanic Education from 2001 to 2003 and is the author of "Los Republicanos: Why Hispanics and Republicans Need Each Other." Sanchez is CEO of the Impacto Group, which specializes in market research about women and Hispanics for its corporate and nonprofit clients.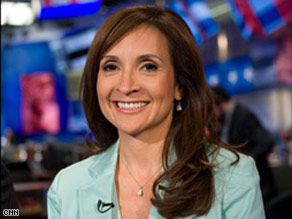 Leslie Sanchez says Bill Clinton's global fundraising needs close scrutiny in Hillary Clinton's confirmation.
WASHINGTON (CNN) -- While Hillary Clinton's nomination to be secretary of state has dominated coverage of the transition, the nation's attention hasn't yet focused on the thorny thicket of potential conflicts of interest involving Bill Clinton's fundraising (both for himself and for his foundation) across the globe.
It should. The man has been a globe-trotting vacuum cleaner, virtually sucking up cash wherever it can be found.
True, Clinton has finally agreed to make public the 208,000 donors to the Clinton foundation, and he's agreed to submit future business enterprises and speeches for further scrutiny.
"If she is going to be secretary of state and I operate globally and I have people who contribute to these efforts globally," the former president told CNN, "I think that it's important to make it totally transparent."
Nevertheless, Clinton's jet-set moneymaking has already presented ethics lawyers with a confounding thicket, and his future endeavors may prove even more troublesome in the years to come.
Sure, a lot of the money Bill Clinton has raised may go to worthy causes, and there's no indication his wife will personally profit from it. Still, his global fundraising will create at least the appearance of serious conflicts when Hillary Clinton meets with leaders of countries in which he's been active.
Don't Miss
Consider just one of Bill Clinton's lucrative arrangements. In the fall of 2005, he accompanied Canadian mining tycoon Frank Giustra on Giustra's corporate jet to meet with Kazakhstan strongman Nursultan Nazarbayev.
The U.S. had criticized Nazarbayev for jailing political opponents, canceling elections, and government control of the news media. Sen. Hillary Clinton had questioned his human rights record.
Nevertheless, he must have made quite an impression on Bill Clinton, who left the meeting publicly endorsing Nazarbayev's effort to head the Organization for Security and Cooperation in Europe, which monitors elections and supports democracy. At a news conference afterwards, Clinton went so far as to praise Nazarbayev for "opening up the social and political life in your country."
Within 48 hours of the Clinton and Giustra meeting with Nazarbayev, Giustra signed a contract with the Kazakh state-owned uranium company, giving Giustra the right to buy into three uranium-mining projects, instantly turning him into one of the world's largest uranium producers (Kazakhstan possesses one-fifth of the world's known reserves of uranium).
With mining operations all over the globe courting the Kazakhs, Gene Clark, a uranium industry newsletter publisher, was quoted in The New York Times saying the choice of Giustra's company was "a mystery."
Within months, Giustra made a $31.3 million gift to The William J. Clinton Foundation, the Times reported. Later that same year, Clinton accompanied Giustra to Colombia, where another of Giustra's mining concerns was brokering a coal mining operation.
In June of 2007, Giustra gave $100 million to help establish the "Clinton-Giustra Sustainable Growth Initiative" to address global poverty. Some time later, Giustra, now 51, committed to give The William J. Clinton Foundation half of his future mining profits for life.
With Bill Clinton's foundation now essentially a 50 percent partner in Giustra's global mining empire, how will Secretary of State Hillary Clinton be able to travel to any country where Giusta has interests -- or hopes to have interests -- without creating at least the appearance of a conflict?
There are a couple solutions to all this, of course. Bill Clinton can dissociate himself from the foundation, or the foundation can void the gift.
Voiding the bequest was the "draconian" suggestion of former House Democratic Counsel Stanley Brand: "I don't know how else you remedy it," Brand told The Washington Post.
Republicans and Democrats alike ought to demand no less. Regardless of her qualifications, they should seriously question the junior senator from New York about her husband's global money-making, and how it might affect her performance as secretary of state -- not to mention America's foreign policy.
The opinions expressed in this commentary are solely those of Leslie Sanchez.
E-mail to a friend

All About Bill Clinton • Hillary Clinton