From Alexander Mooney
CNN

(CNN) -- Microsoft founder Bill Gates told CNN on Wednesday that he hopes President-elect Barack Obama and Congress immediately craft a wide-ranging stimulus package, to help jump-start the nation's sputtering economy, and double the United States' commitment to foreign aid.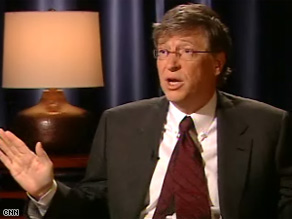 Microsoft founder Bill Gates spoke exclusively Wednesday with CNN's Wolf Blitzer.
"Clearly we need a stimulus that doesn't undermine the incentive for businesses to be careful about their spending and making those correct investments," Gates told CNN's Wolf Blitzer in an exclusive interview airing on The Situation Room on Wednesday and Thursday.
Gates, one of the world's richest men and founder of the Bill & Melinda Gates Foundation, is also calling on Obama to increase investments in the nation's education system and spur technological advances to improve agriculture, prevent disease, and promote economic growth in the world's poorest nations.
"The key point I'd make is that in addition to that stimulus, you've got to fund the kind of scientific work and educational investments that could really have us be a much better country as we emerge from the recession," he said.

Watch Gates discuss economy »
On his Web site, Obama has pledged to double the United States' annual investment in foreign aid to $50 billion by the end of his first term, with the goal of fully funding debt cancellation for poor nations and fighting AIDS and global poverty.
In the interview with CNN, Gates said he thinks Obama will live up to that commitment.
"Obviously it's the Congress that gets to actually vote the final decision for how the money is spent, but I do think he will get to that commitment," Gates said. "I am thrilled to be able to see that people are responding to the success stories. Aid from the United States did go up in the last eight years."
The interview came shortly before the Microsoft founder delivered a wide-ranging speech at The George Washington University in Washington, D.C., during which he reiterated his call for a major new stimulus package to spur job growth.
"Spending is the only way we'll ever come out of this downturn, and with businesses, state governments and consumers pulling back, the federal government must step forward," Gates told the crowd.
The Bill & Melinda Gates Foundation has distributed more than $17 billion in grant commitments in all 50 states and 100 countries. In his interview with CNN, Gates said he had personally given more than $30 billion to the foundation.
E-mail to a friend

All About Bill Gates • Bill & Melinda Gates Foundation • Barack Obama