WASHINGTON (CNN) -- President-elect Barack Obama plans to nominate New Mexico Gov. Bill Richardson to be secretary of commerce, a Democratic source told CNN on Tuesday.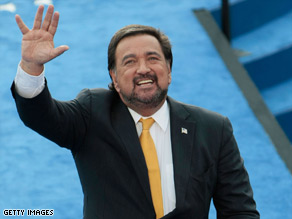 New Mexico Gov. Bill Richardson was a candidate for the Democratic presidential nomination this year.
The former Democratic presidential candidate's name has been bandied about as the next head of Commerce.
Obama spoke with Richardson about the position November 14, a senior Democratic source said. The source said Richardson has always been on Obama's list of possibilities for the key Cabinet position.
Richardson, 61, also traveled to Chicago, Illinois, in November to meet with Obama, according to a source.
"He brings to this plate, in particular in an era where the economy is the focus of attention, a lot of skills that could be put to use -- perhaps opening up marketplaces for U.S. products abroad," CNN senior political correspondent Candy Crowley said.
"In New Mexico, he sought to bring in new businesses and to create jobs ... so the Obama team considers this part of the economic team."
One of the most prominent Hispanic politicians in the nation, Richardson withdrew from the race for the Democratic presidential nomination January 10 and later endorsed Obama.
He has served as a U.N. ambassador and as energy secretary in the Clinton administration.
If Richardson steps down as chief executive of New Mexico, Democratic Lt. Gov. Diane Denish takes over. She was Richardson's running mate in the 2002 and 2006 gubernatorial elections.
It's a very different situation in neighboring Arizona, where another Democratic governor, Janet Napolitano, is also stepping down to join the Cabinet. Arizona doesn't have a lieutenant governor. Under state law, Secretary of State Jan Brewer -- a Republican -- takes over.
Richardson sought the Democratic presidential nomination but dropped out of the race after a poor showing in the January 8 New Hampshire primary.
Declaring that Obama is an "extraordinary American," Richardson endorsed Obama to be the Democratic nominee for president March 21.
"Barack Obama will make a great and historic president," Richardson said at a rally in Portland, Oregon, with Obama at his side. "[It] is a once-in-a-lifetime opportunity for our nation, and you are a once-in-a-lifetime leader."
Obama said, "I am extraordinarily grateful to have the support of one of the great public servants of these United States."
"He's done the kind of work that you want from your public servants, somebody who's driven not just by raw ambition, not just by an interest in personal aggrandizement," Obama added. "He's been somebody who's been motivated by the desire to make the lives of his constituents and working people a little bit better."
Obama and Sen. Hillary Clinton both lobbied Richardson for his endorsement.
Richardson said that his "affection for Hillary Clinton and President Bill Clinton will never waver" but that "it is now time for a new generation of leadership."
Obama "can bring us the change we so desperately need by bringing us together as a nation here at home and with our allies abroad," he said.
Hillary Clinton was named this week as Obama's pick for another Cabinet post: secretary of state.
Richardson caused controversy in Democratic circles with his endorsement of Obama this year.
In April, Richardson said he was "very close to endorsing" Clinton but decided not to after the campaign became negative.
His endorsement was viewed as an act of betrayal by some longtime Clinton supporters.
CNN political analyst James Carville, who has close ties to both Clintons, likened Richardson's endorsement to Judas' betrayal of Christ.
Richardson responded to Carville's criticisms by saying that Carville and other Clinton supporters believe they are a "dynasty" and that they were "clinging to the throne."
E-mail to a friend

CNN's Candy Crowley, Ed Hornick and Paul Steinhauser contributed to this report.
All About Bill Richardson • Barack Obama • Hillary Clinton