By Paul Steinhauser
CNN deputy political director
(CNN) -- Call Sarah Palin the closer.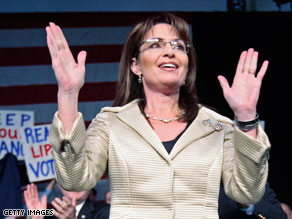 Alaska Gov. Sarah Palin campaigns Monday for Sen. Saxby Chambliss in Perry, Georgia.
The Alaska governor and former Republican vice presidential nominee was back on the campaign trail Monday, teaming up with Sen. Saxby Chambliss at four campaign events in Georgia, the last full day of campaigning before Tuesday's Senate runoff election in the state.
Chambliss, a freshman Republican senator from Georgia, is facing Jim Martin, a former Georgia state lawmaker.
Chambliss won a plurality of the vote three weeks ago on Election Day, but Georgia state law requires a majority -- 50 percent plus one vote.
Because of the inclusion of a third-party candidate, Chambliss fell just shy of that threshold, forcing the runoff.
"You Georgians are going to have the opportunity to determine the direction this country is going to take," said Palin during a campaign rally in Perry, in south Georgia.
"This election is that important and I know come tomorrow night, Georgians are going to speak and Georgia's going to speak with a loud and clear voice. We want to make sure we have at least 41 Republicans in the United States Senate to make sure that we shape bad legislation, or kill bad legislation."

Watch Palin back on the stump »
Democrats have so far picked up seven Senate seats in this year's election, with the Republican seats in Georgia and Minnesota still undecided.
In Minnesota, freshman GOP Sen. Norm Coleman topped his Democratic challenger, Al Franken, by just 215 votes, triggering an automatic recount that will extend well into December.
If the Democrats take both remaining contests, they'll reach their pre-election goal of controlling 60 Senate seats, which would be a filibuster-proof majority. A filibuster is a move by the minority party in the Senate that basically brings the chamber to a standstill by blocking votes on legislation.
Chambliss had urged Palin to come to Georgia and help him get out the conservative vote. Chambliss was "happy to become the warm-up act at his own final rallies," said CNN congressional correspondent Dana Bash, who is covering the Georgia runoff election.
Palin adds her name to the list of big-name surrogates who have made campaign cameos in the last remaining Senate election this year.
Sen. John McCain returned to the trail to campaign with Chambliss just nine days after losing the presidential election to Obama.
Two weeks ago, former Arkansas Gov. Mike Huckabee, who ran for the Republican presidential nomination before dropping out in March and backing McCain, also campaigned with Chambliss. Former Massachusetts Gov. Mitt Romney also teamed up with Chambliss.
Like Huckabee, Romney also ran for the GOP presidential nomination before ending his bid in February and backing McCain.
Last week, former New York City Mayor Rudy Giuliani campaigned with Chambliss. Giuliani also was in the race for the Republican presidential nomination. He dropped out in late January and immediately endorsed McCain.
Giuliani, Huckabee and Romney could all make another stab at presidential politics in 2012. And possibly joining them could be Palin.
She comes out on top in a recent Gallup poll that asked Republican voters who they are most interested in seeing run for the GOP nomination in 2012.
Sixty-seven percent of Republican and Republican-leaning voters said they would like to see the Alaska governor make a bid for the next GOP presidential nomination. Romney was in second place at 62 percent and Huckabee in third, one point behind Romney.
Some in the crowds were chanting "Sarah, Sarah" at times, and the audiences were much larger than when the other Republican surrogates teamed up with Chambliss in recent weeks.
"With adoring signs and 'Palin for President' T-shirts, it may be easy to forget Palin came to Georgia campaigning for someone else," observed Bash.
But the next presidential election is still a long way away.
"She's got to go back to Alaska and do an effective job, and then I think she begins as a strong candidate in 2012 if she chooses to run," said GOP strategist and CNN contributor Ed Rollins.
Martin is also getting some major-league help.
Both former President Bill Clinton and former Vice President Al Gore have separately teamed up with him. President-elect Barack Obama isn't making a trip to Georgia but he did lend his voice to a 60-second radio ad that's been running for over a week. And many who worked in Georgia for Obama during the general election campaign are now assisting Martin.
On Monday, Martin teamed up with Rep. John Lewis and other prominent Georgia Democrats before ending the day at a rally at the State Capitol in Atlanta with rapper Ludacris.
Martin called Palin's four campaign stops Monday a sign of desperation for Chambliss, adding that "bringing Sarah Palin is not going to help him (Chambliss) because the voters of Georgia want someone who will stand up for them in Washington. Someone who understands their issues."
Turnout will be crucial to the outcome of this election. So do these big-name surrogates make a difference? "Generally they can help boost turnout, because of all the media attention," said CNN senior political analyst Bill Schneider.
"Turnout in a runoff election is often very low compared to a presidential election and each side needs to get as many of their voters to the polls as possible."
E-mail to a friend

All About Sarah Palin • Saxby Chambliss • Jim Martin • U.S. Senate • Georgia • Minnesota