By Donna Brazile
CNN Contributor
Editor's note: Donna Brazile, a Democratic strategist, is a political contributor for CNN. She also is the chairwoman of the Democratic National Committee's Voting Rights Institute, an adjunct professor at Georgetown University and founder of Brazile & Associates, a Washington-based political consulting firm. Brazile, who was the campaign manager for the Al Gore-Joe Lieberman ticket in 2000, wrote "Cooking With Grease: Stirring the Pots in American Politics," a memoir about her life in politics.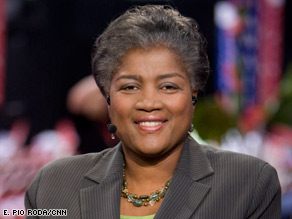 Donna Brazile says that even at a time of challenges, there's a lot to be thankful for.
WASHINGTON (CNN) -- Let's rejoice today and get ready to work hard to rebuild our country's future.
Thanksgiving has always been one of my favorite holidays.
Though every day should contain a moment or two in which we give thanks to others and reflect on all our many blessings, this is the day we gather with family and friends to celebrate our love for one another and the goodness of others.
There's so much to celebrate this season. Let's rejoice, even as we come to terms with one of the worst economic crises since the Great Depression and yet another terrorist attack on innocent people.
For there are always small gifts and minor miracles for which we can and should express our thanks. This Thanksgiving, for me, it includes having elected a new president who has promised to bring us together as a nation.
I am so thankful that, come January 20, we will have a new president, one who promises to bring about change and to help lead our country in tackling the enormous challenges we will face in the coming year.
And I'm especially grateful that the rest of the world is ready to give us a new start, a second chance to reclaim our place in the world. Their celebration of Barack Obama's election brings with it a resurgence of the international goodwill we have not experienced since September 11.
Don't Miss
It is now our chance to lead in the right direction, with friends and allies by our side.
It is now our chance to remember that the United States and all the countries across this delicate globe are interconnected and mutually dependent.
It is now our chance to be a leader and not a conqueror to the rest of the world.
I am also thankful for the young voters who decided to answer the call to serve. Knocking on doors and canvassing America on behalf of their candidates, they were engaged and dedicated throughout the entire political season to a cause greater than themselves.
Many of them traveled the campaign trail for the first time. God bless them, they now have the bug, the passion and the fever in their blood to revive our democracy and make it even stronger in the years ahead.
I am thankful too for women like Sen. Hillary Clinton and Gov. Sarah Palin, who, taken together, represented all women in leadership willing to compete for the top prizes in their field.
Both women served their purpose. Clinton came close to winning the Democratic nomination. Until the very end, she fought gallantly, and I am glad that she is willing to serve as secretary of state in the new administration.
Palin proved to folks who needed such proof that not all female leaders are the same. I can't believe that it needed proving, but apparently it did. She has a real chance to make a comeback in the Republican Party, which is in need of a new brand and a rescue plan of its own.
The lasting lesson of having two women out there talking to voters and making a difference for women leaders is to once again remind America not to underestimate the majority of its citizens.
That's right; women are the majority in the United States. Our time will come, and I hope to live long enough to witness that historic moment come to pass as well.
I am thankful to Howard Dean and the leaders of the Democratic Party for their 50-state strategy. Not just because Democrats won up and down the ticket in so many states, which is reason enough for this partisan to be grateful, but because it showed Democrats, Republicans and independents alike in red states that no vote should ever be taken for granted.
No candidate or political party will ever again forget any state in the quest for electoral votes. The 50-state strategy strengthened our democracy. By making people believe that they and their votes mattered, the strategy brought new participants of democracy into the fold.
This year we voted as a nation, not as red and blue states. And I am thankful for the unity it wrought.
Many of us awaited an October surprise disastrous enough to swing the momentum of the presidential campaign. But the biggest surprise ended up being the form it took: not a manufactured partisan attack but a economic meltdown.
And I am also grateful that in creating one of the most partisan administrations in political history, the Bush administration left the door wide open for our newly elected president to usher in an era of civility and cooperation between the two major parties. In short, team Bush prepared the country for the change Obama offered.
I never thought that in my lifetime I would witness a biracial president of the United States take the oath of office. There is so much to be thankful for that I expect many a turkey will cool while families and friends gather around their table and give thanks for the special blessings in their lives.
Even the unexpected, the unpredictable things deserve gratitude. It is struggle that makes us change, grow and progress. What a blessing it is to have a day in which we can reflect upon all the gifts in our lives, even the ones disguised as hardships.
The opinions expressed in this commentary are solely those of Donna Brazile.
E-mail to a friend

All About Barack Obama • Hillary Clinton • Sarah Palin