(CNN) -- Alaska Gov. Sarah Palin is returning to the campaign trail next week to lend her support to Saxby Chambliss, the freshman senator who is fighting to keep his seat in Georgia.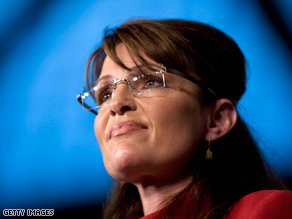 Alaska Gov. Sarah Palin will team up with Sen. Saxby Chambliss in Georgia before next week's runoff.
"I was thrilled when I got the call that Gov. Palin would be able to make the trip to Georgia to campaign with me the day before the runoff election," Chambliss said in a statement.
"[My wife], Julianne, and I are honored that she would take the time to travel to Georgia to tell everyone how important this election is, and I know that she will receive an enthusiastic welcome everywhere we go."
Palin will attend a fundraiser Sunday night and then appear at multiple campaign stops Monday in an effort to rally the GOP base to turn out for Chambliss.
Chambliss won a plurality of the vote on Election Day three weeks ago, but Georgia law calls for the winner to grab 50 percent plus one vote.
Due to the inclusion of a third-party candidate, Chambliss fell just shy of that threshold, forcing a runoff between him and Jim Martin, the Democratic challenger.
Nick Ayers, executive director of the Republican Governors Association, said that it made sense for Palin to help Chambliss in the days leading into the runoff because he noted that GOP governors are "still very popular in the party."
"She is going to bring a lot of energy and enthusiasm to this runoff," said Ayers, who is a close Palin confidant. "She is widely popular in Georgia, and I could not envision a stronger closer for Saxby in this election."
In the lead-up to the state's runoff election, big-name surrogates have made cameos for both candidates.
Chambliss has had help from a handful of former presidential hopefuls, including former New York Mayor Rudy Giuliani on Tuesday.
Sen. John McCain joined Chambliss nine days after losing the presidential election to Barack Obama.
Earlier this month, former Arkansas Gov. Mike Huckabee, campaigned with Chambliss, and former Massachusetts Gov. Mitt Romney teamed up with Chambliss on Friday.
On the Democratic side, Martin, a former Georgia state lawmaker, has been joined on the trail by former President Clinton and former Vice President Al Gore.
Obama also contributed his voice to the Democrats' efforts, speaking out in a 60-second radio ad for Martin that hit the airwaves last week.
But do these big-name surrogates make a difference?
"Generally, they can help boost turnout because of all the media attention. Turnout in a runoff election is often very low compared to a presidential election, and each side needs to get as many of their voters to the polls as possible," said Bill Schneider, CNN's senior political analyst.
More than $4 million already has been spent on campaign commercials for the runoff election, according to new numbers from the Campaign Media Analysis Group.
The Chambliss campaign and the National Republican Senatorial Committee have spent a little more than $1.7 million in ad time since the day after the November 4 vote, with Martin's campaign and the Democratic Senatorial Campaign Committee putting out more than $1.6 million, according to numbers from the Campaign Media Analysis Group.
Outside groups account for the remaining $770,000 in campaign commercial spending. The vast majority of that money came from Freedom's Watch, a group that backs Republican candidates.
"This shows that there is still a lot at stake, this runoff is giving campaign '08 a final act. Who would have predicted this, a red state Senate race with groups from the political left free spending and groups from the right clearly not taking this for granted?" asked Evan Tracey, CNN's campaign media analyst and chief operating officer of TNS Media Intelligence/CMAG.
Democrats so far have picked up seven Senate seats in this year's election, with the Republican seats in Georgia and Minnesota still undecided.
In Minnesota, freshman GOP Sen. Norm Coleman topped his Democratic challenger, Al Franken, by 215 votes, triggering an automatic recount that will extend into December.
If Democrats take both remaining contests, they'll reach their pre-election goal of controlling 60 Senate seats, which would be a filibuster-proof majority.
A filibuster is a move by the minority party in the Senate that can bring the chamber to a standstill by blocking votes on legislation.
E-mail to a friend

CNN's Paul Steinhauser and Mark Preston contribute to this report.
All About Georgia • Saxby Chambliss • Jim Martin