By Sunny Hostin
CNN
Editor's Note: Sunny Hostin is a legal analyst for CNN and is also a managing director of business intelligence and investigations at Kroll Inc. Previously, Hostin served as an assistant U.S. attorney in Washington, D.C., where she received a Special Achievement Award for her work as a child sex crimes prosecutor. She also served as a trial attorney for the U.S. Department of Justice's Antitrust Division.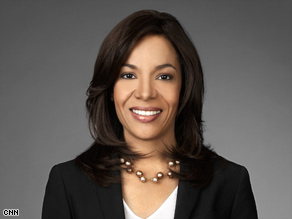 Sunny Hostin says prostitution is not a victimless crime and johns should be charged.
(CNN) -- We finally heard from Ashley Dupre -- or "Kristin" as former New York Gov. Eliot Spitzer knew her. But did we really hear much? I didn't.
I wanted to know more about Eliot Spitzer, the man.
I wanted to know how the former Sheriff of Wall Street became the Sheriff of Nottingham -- a do-gooder gone bad. A john. "Client No. 9."
I wanted to know how he got such a sweetheart deal. How did a ruthless prosecutor get the type of mercy from the government that he rarely, if ever, was willing to give to those he went after?
But when Diane Sawyer during her "20/20" interview got even close to that topic, Dupre replied, "legally I've been advised not to discuss that." And that makes sense, since she doesn't have an iron-clad immunity deal.
If she has nothing in writing, she has to be careful. But what was striking about what I did hear was that Ashley Dupre is no different than the many prostitutes I had met during my time as a prosecutor.
Her story, as told to Sawyer and People magazine: Her father left when she was 3; her mother remarried; her older brother, who she described as her best friend, ran away from home when she was 12; she then ran away when she was 17. She became a high school dropout.
A life of drugs, alcohol and heavy partying followed. She was raped. Visions of music stardom danced in her head. Music groupie led to high paid "escort". But let's call it what it is simply.... prostitution.

Watch Hostin on why Spitzer shouldn't have gotten a pass »
But Spitzer doesn't have to be careful, because he got a pass. A complete pass. He even got to keep his law license, the same one he used relentlessly and mercilessly when he went after wrongdoers.
So the question I have is why? Why did the U.S. Attorney's Office for the Southern District of New York, the very same office that zealously went after Martha Stewart for lying to some of its prosecutors, give him a complete pass, a proverbial get-out-of-jail free card?
U.S. Attorney Michael Garcia explained there was no evidence that campaign or public funds were used. Of course there wasn't evidence of that, Mr. Garcia -- Spitzer is rich.
The U.S. Attorney also claimed that his office had also determined there was "insufficient evidence to bring charges against Mr. Spitzer for any offense relating to the withdrawal of funds for, and his payments to, the Emperors Club VIP...."
Really? Since it seems to me (and many other lawyers I have spoken with) that there was evidence that Spitzer violated the Mann Act, which makes it a federal criminal offense to knowingly transport any individual, male or female, across state lines for the purpose of prostitution or sexual activity.
The indictment made it clear that Client No. 9 met Kristin, who was based in New York but traveled to Washington, at the Mayflower Hotel, Room 871 to be exact, "for her tryst." It was also alleged that Client No. 9 paid for Kristin's train tickets, cab fare, mini-bar and room service, travel time and hotel.
In the way Spitzer paid for her services, it appears that there was also evidence of "structuring," a crime which involves creating a series of financial movements designed to obscure the true purpose of the payments. Prosecutors reportedly had a series of e-mails and wiretapped phone conversations of Spitzer, in addition to financial records. Sounds like good evidence of criminal activity to me.
But Garcia finally admitted what was behind his office's decision not to prosecute Spitzer when he said "[i]n light of the policy of the Department of Justice with respect to prostitution offenses and the longstanding practice of this office, as well as Mr. Spitzer's acceptance of responsibility for his conduct, we have concluded that the public interest would not be further advanced by filing criminal charges in this matter."
The policy he referred to is that prosecutors don't go after "johns" or "customers". But why not?
What better way to cripple a business than to cut out its customers? Just look at the state of our economy -- when people aren't buying, businesses are in trouble. Pure and simple.
Prostitution is not a victimless crime. Look at Ashley, really look at her. She really looks like every other prostitute -- a victim of her upbringing, a victim of her circumstance and now a victim of the government's policy.
So there you have it. You can't lie to a federal prosecutor, but if you wire your own money to the accounts of an international prostitution ring, and arrange to have paid sex in the nation's capital, it's all good. You see, Martha. You should have paid for sex in Washington.
The opinions expressed in this commentary are solely those of Sunny Hostin.
E-mail to a friend

All About Eliot Spitzer • Martha Stewart