(CNN) -- The notion of President-elect Barack Obama creating a team of former rivals to be in his Cabinet has attracted a lot of attention, especially with news that Sen. Hillary Clinton reportedly is on track to be secretary of state.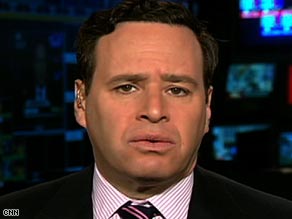 David Frum says Barack Obama would cement his power over Hillary Clinton by putting her in his Cabinet.
CNN's Joe Johns talked with David Frum, a former speechwriter for President Bush, on Monday about the possibility of Clinton as well as a Republican serving in the new administration's Cabinet.
CNN: And I guess a lot of people are wondering right now about Hillary Clinton. What do you see in this thing? What does it mean to have Hillary Clinton as the secretary of state? How will she end up there?
David Frum: Well, it means that Hillary Clinton has just moved from having an independent power base in the Senate to being in effect an employee of Barack Obama. And not just any employee, but one who has had to open her files to Barack Obama.
Just imagine the scene of the Obama people going through the Clinton files and saying, "Wow, this could be embarrassing if anybody ever found out about it. Don't worry, it's safe with us."
He has just cemented his enormous power over her, and the sentimental idea out there that he's reaching for a rival and padding the dust off her and bringing her into a Cabinet to be his rival -- no, he's putting her into his Cabinet in order to control her. It's a pretty impressive display of tough politics.

Watch how heavy hitters likely will be on Obama's national security team »
Don't Miss
CNN: But why would she take the job? Why would she leave the United States Senate and go over to secretary of state, where she would be the employee of Barack Obama?
Frum: Well, I think part of it, she was trapped. The series of leaks that happened over the past week; they leaked the news of the offer. Barack Obama looks of course very magnanimous, making such an offer.
She probably wanted the job anyway. And although the Senate is powerful, it's also frustrating. So, she may have had reasons for going, but he also put pressure on her by leaking the news of the offer. Could she afford to look less magnanimous? Could she afford to say no and look like she was keeping some kind of grudge? And that might put her on the outs for a lot of Democrats for whom Barack Obama is the leader.
CNN: At the same time, there is a lot of self-interest here on her part. She gets to be on a world stage and push American policy to all these other countries.
Frum: Does she really or does she take orders from the vice president, Joe Biden, who also has a lot of strong policy ideas, and who may end up having a role not unlike that of Dick Cheney? And maybe not as powerful quite as Dick Cheney, but he's got a big institutional base, a lot of strong foreign policy ideas. There will be some rivalry there.
CNN: A lot has been made of the relationship between these two, particularly because of the primaries. And I suppose the question there is not what is the relationship currently, but what could it be if they work closely together in the administration?
Frum: Well, we'll see. We have had eight years in which the national security adviser has been a relatively weak figure compared to first Secretary of State Colin Powell, and then when Steve Hadley moved to the job, even though Condoleezza Rice has been a relatively weak secretary of state. Again, the national security adviser was weaker still. The power rested very much in the vice president's office. But the norm since 1960 has been for the national security adviser to be very powerful and often more powerful than the secretary of state.
CNN: Do you anticipate, realistically, at the end of the day, friction between the president and the secretary of state in this new administration?
Frum: I have -- I don't know. But I think what you are -- the question I would have is, does the power of the secretary of state get eclipsed by the vice president, by the national security adviser?
By the way that's one reason -- your point before putting a Republican in the Cabinet, I don't think it's generally a good idea to reach across the aisle and I say this as a Republican. People vote for a Democratic policies; they should get Democratic policies, good and hard, too, to teach them a lesson.
But we have competitions for a reason and you don't want to negate the power of voter choice by saying, you know, if you vote Democratic, you don't get something pretty different.
Also, it's hard to see what Republican would take the job and any Republican who would take it, he wouldn't give Barack Obama lot of credit with Republicans.
E-mail to a friend

All About David Frum • Barack Obama • Hillary Clinton