By Jonathan Mann
(CNN) -- The whole world is watching how Barack Obama picks his cabinet, but he and his wife Michelle have a much more personal choice to make at home -- and it's very political too.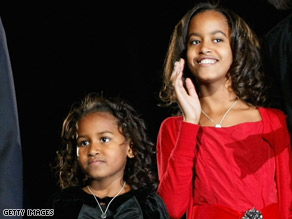 Sasha Obama, left, and Malia Obama will make the White House home come January 20.
When they move to Washington, will their daughters Malia, 10, and Sasha, 7, go to public or private school?
For many US parents, that decision is more revealing than the ones they make at the ballot box. What do you think the Obama family should do?
Americans of a certain income who choose public school are demonstrating that they trust the government to educate their children. Americans who send their children to private school are saying that the government hasn't earned that trust. In some areas, it's also been a way for white families to avoid sending their children to school with black children.
Republicans tend to favor giving poor families subsidies so they can afford private schools too. Most Democrats, including Barack Obama, are opposed to the idea, because they think it undermines the public school system.
It's not an issue every president faces. George Bush's twin daughters, Jenna and Barbara, were both college students by the time he took office. The Obamas' two Democratic predecessors made contrasting choices. Jimmy and Rosalynn Carter's daughter Amy went to public school. The Clintons' daughter, Chelsea, went to a private school.
In Chicago, the Obama girls have been going to a private school. But now their father is preparing to be president. All around the country, the media are reporting on the story and taking sides too. Some of them have already noted that the president-elect who opposes "school choice" for the poor has been able to afford it for his own children.
This week, Mrs. Obama took the girls to visit some of Washington's elite private schools, with tuition of about $28,000. In an interview with CBS News, she resorted to the kind of careful phrasing that practiced politicians use to avoid controversy.
"What we have asked people to understand is that the decision that we make will be based on the best interests of the girls. We haven't made that decision yet. We want that to be a personal process, and people have been really good about respecting that."
They can't avoid the decision for long. The Obama's move to Washington in January, just in time for the second half of the school year to begin.
E-mail to a friend

All About Democratic Party • Barack Obama • Republican Party • George W. Bush