WASHINGTON (CNN) -- A major obstacle in Sen. Hillary Clinton's path to becoming President-elect Barack Obama's Secretary of State may be out of the way, as former President Bill Clinton has made several concessions to help move his wife's vetting process along.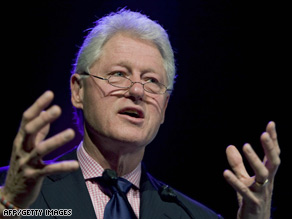 Bill Clinton has agreed to release the names of some of his major donors, a source tells CNN.
A source familiar with the discussions between Hillary Clinton and the president-elect confirms to CNN that the former president will release the names of several major donors to the Clinton Foundation as well as submit future foundation activities and paid speeches to a strict ethics review.
In addition, the former president is offering to step down from his day-to-day responsibilities at the foundation and inform the State Department of his speaking schedule and any new sources of income.
Clinton said Wednesday that he would do whatever was asked of him in regards to the vetting process.
"Whatever they want, this is a deal between president-elect and Hillary and you should talk to them, but I'll do whatever they want," he said. "We're both committed, completely committed to his success so that's for them to work out. Whatever they do, I'll support."
President Clinton's international and financial dealings with his foundation and presidential library have been a sticking point with an Obama camp worried that Sen. Clinton's position in the cabinet could create a potential conflict of interest as the country's top diplomat.

Watch what Obama says about bringing Clinton on board »
Last year alone, Bill Clinton's charitable foundation raked in $81 million in contributions, and some were from foreign interests.
His financial ties overseas were an issue during Sen. Clinton's presidential run.
Last spring, before the Olympics, Sen. Clinton was speaking out against China's crackdown on Tibetan protesters at the same time that her husband's foundation was taking money from a firm accused of collaborating in that censorship, the Los Angeles Times reported.
Other reports have cited donations from officials in Saudi Arabia, Morocco, the United Arab Emirates and Kuwait -- each one a contact for Bill Clinton and a potential conflict for the Obama White House.
"The danger is that this is a former president. Bill Clinton is always out there in the world. He's making speeches. He's on the world stage, and he could make comments about U.S. policy that could create some kind of confusion or some kind of difficulty," said Zain Verjee, CNN's State Department correspondent.
Clinton spoke on Sunday on his assessment of Obama's domestic and foreign policies at a National Bank of Kuwait symposium. Some published reports put Clinton's fee at $500,000.
"I think that he knows a lot of world leaders and he has informal conversations with those world leaders, and those will be conversations that the administration will not be able to track nor can they control," said Politico's Jeanne Cummings.
Clinton's complicated connections could be a good thing, though. Clinton could help buy enormous goodwill for Obama as well as provide him with a wealth of international experience. iReport.com: Who should be in Obama's cabinet?
The former president recently told Philanthropy.com that he guards against any conflicts between a donor's intentions and his wife's job as a senator.
"With foreign donors, but also with domestic ones, if there's any question, we do exhaustive vetting. I can recall some money we haven't taken and also some we did but only after more than a year of efforts to make sure that everything was OK," he said.
Neither the Clintons nor Obama is talking publicly about what they could gain or lose in this.
Two Obama transition officials didn't say how fast financial information is being turned over, but they did shoot down a report suggesting that transition officials are annoyed by slow cooperation from the Clintons.
"If they're able to plow through all of it and Hillary Clinton does get the nod, it seems that President Clinton would likely have to wall off, in some kind of capacity, his personal private financial interests and maybe just focus on the humanitarian work that doesn't have a conflict of interest. He probably also would have to be more transparent and disclose all his financial dealings," Verjee said.
E-mail to a friend

CNN's Tom Foreman and Jessica Yellin contributed to this report.
All About Bill Clinton • Hillary Clinton