WASHINGTON (CNN) -- Call it a meeting of the bipartisan minds.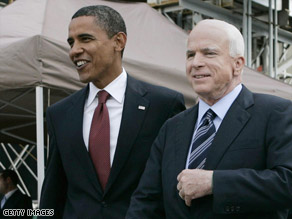 Barack Obama and John McCain attended the 9/11 memorial service together in New York City this year.
President-elect Barack Obama will meet with former GOP presidential candidate John McCain Monday in Chicago, Illinois.
The meeting will take place at the Obama transition headquarters.
"It's well-known that they share an important belief that Americans want and deserve a more effective and efficient government, and will discuss ways to work together to make that a reality," Obama transition spokesman Nick Shapiro said in a statement Sunday.
Obama and McCain will be joined in the meeting by Sen. Lindsey Graham, R-South Carolina, and Obama's new chief of staff, Rahm Emanuel.
Meanwhile, the man who steered Obama's Senate office will now move over to the White House with the incoming president.
The Obama transition office announced Sunday that Peter Rouse, Obama's chief of staff in his Senate office, will serve as a senior adviser to the president.
Before joining Obama in December 2004, Rouse was chief of staff for 19 years to former Senate Democratic Leader Tom Daschle of South Dakota. Before that, he was chief of staff to then-Rep. Dick Durbin of Illinois.
Meanwhile, Republicans praised the prospect of Sen. Hillary Clinton becoming secretary of state. Sources told CNN on Friday that Obama has spoken about that job with Clinton and New Mexico Gov. Bill Richardson, another former rival for the presidential nomination.
Former Nixon and Ford Secretary of State Henry Kissinger said Clinton would be an "outstanding" selection, Bloomberg News reported.
GOP Sen. Jon Kyl of Arizona told Fox News: "She's got the experience; she's got the temperament for it." And California Gov. Arnold Schwarzenegger told ABC it would be a "great move."
The Obama transition team also announced that Mona Sutphen will serve as a deputy chief of staff.
Sutphen is a member of the transition team staff and has been managing director of Stonebridge International LLC, an international strategic consulting firm based in Washington.
From 1991 to 2000, she was a U.S. foreign service officer, and among other assignments she served in the White House at the National Security Council from 1998 to 2000, under President Bill Clinton.
Jim Messina was also named a deputy chief of staff. Messina is currently the director of personnel for the president-elect's transition team. He served as a national chief of staff for Obama's presidential campaign.

Watch more on the Obama transition picks »
Before that, Messina served as a chief of staff for Sens. Max Baucus (D-Montana) and Byron Dorgan (D-North Dakota) and for Rep. Carolyn McCarthy (D-New York).
Obama, in a statement released by the transition team, said, "These individuals are important additions to a team with the experience and ability to help our nation overcome pressing challenges at home and around the world."
Also, a longtime friend of the Obamas was officially named Saturday as a senior adviser to the incoming president.
Obama, in a statement released Saturday morning by his transition staff, announced that Valerie Jarrett will serve as senior adviser and assistant to the president for intergovernmental relations and public liaison. CNN Contributor Roland Martin reported the offer to Jarrett on Friday evening.
Jarrett is currently co-chair of Obama's transition team and was senior adviser for his presidential campaign. She became the president and CEO of The Habitat Company in 2007 and was also the company's vice president. The Habitat Company develops and manages residential apartments and condominiums.
Before joining The Habitat Company, Jarrett served for eight years in government for the city of Chicago, first as deputy corporation counsel for finance and development, then as deputy chief of staff for Mayor Richard M. Daley, and finally as commissioner of the Department of Planning and Development.
Also Saturday, a Democratic source told CNN that prominent Washington lawyer Greg Craig will be named White House counsel for the Obama administration. The source added that it is unclear when the appointment will be made public.
Craig first gained prominence representing President Clinton in his Senate impeachment trial, but he endorsed Obama over Sen. Hillary Clinton in the Democratic primaries and later played a key role in Obama's vice-presidential vetting process.
CNN reported Friday that three officials close to the presidential transition said Craig was under strong consideration to be named as the incoming president's top lawyer.
One of those officials said Craig was "highly regarded" and trusted for his discretion by Obama.
The transition team also made official Saturday the hiring of Ron Klain as chief of staff to the vice president.
Klain was also chief of staff to Vice President Al Gore, but he's no stranger to Vice President-elect Joe Biden, having served as chief counsel to the Senate Judiciary Committee when Biden was the committee chairman.
Klain also served as general counsel of Gore's 2000 Florida recount effort and was portrayed by actor Kevin Spacey in an HBO movie about the event.
This year, Klain helped with debate preparation for both Obama and Biden.
"Ron Klain has been a trusted adviser of mine for over 20 years," a statement from Biden said Saturday.
The transition team also announced Saturday that Phil Schiliro will serve as assistant to the president for legislative affairs. Schiliro is director of congressional relations for the Obama transition team. Before that, he was a senior adviser to Obama's presidential campaign.
E-mail to a friend

CNN's Ed Henry, Ed Hornick and Paul Steinhauser contributed to this report.
All About Barack Obama • Valerie Jarrett • John McCain