WASHINGTON (CNN) -- Russian President Dmitry Medvedev said that a "crisis of confidence" exists between Russia and the United States but that he has "great aspirations" for the incoming Obama administration.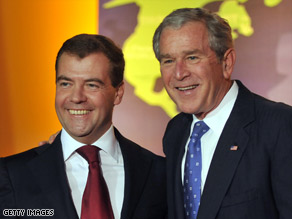 Russian President Dmitry Medvedev visited Washington for the economic summit hosted by President Bush.
Medvedev, in Washington for the G-20 economic summit, said he hoped to meet with President-elect Barack Obama soon.
"We have that understanding," he said.
Medvedev has expressed concern that a U.S. missile-defense program that would put radar and missiles in the Czech Republic and Poland would threaten Russia.
Medvedev announced this month that Russia would place short-range ballistic missiles near its border with Poland, in Kaliningrad, to defend Russia from the U.S. missiles. The State Department had responded by calling the announcement "disappointing."
However, Medvedev backpedaled from the statement last week and continued to do so Saturday, saying Russia "really does not want to deploy anything." He added that Russia "will not do anything until the U.S. takes the first step."
Medvedev said Russia and the U.S. have to agree on a global system to protect against rogue states and that he is ready to discuss it with the new president.
The "first signals" he has received from the Obama administration, he said, are that they "are willing to think about it and not just rubber-stamp it," referring to the anti-missile system.
Obama's advisers have said that he has made "no commitment" to plans for a missile defense program in eastern Europe, despite claims from Polish President Lech Kaczynski this month.
"President Kaczynski raised missile defense, but President-elect Obama made no commitment on it. His position is as it was throughout the campaign: that he supports deploying a missile defense system when the technology is proved to be workable," adviser Denis McDonough said November 8.
E-mail to a friend

All About Dmitry Medvedev • Barack Obama • Military and Defense Policy