From Elaine Quijano
CNN White House Correspondent
WASHINGTON (CNN) -- The world leaders gathering for Saturday's economic summit may be looking ahead to his successor, but President Bush signaled that he's ready to defend Western-style capitalism and free-market principles during what will be one of his last appearances on the world stage.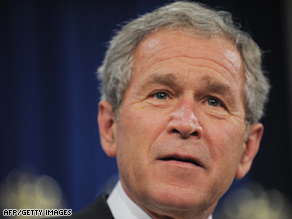 President Bush warned against excessive regulation of the financial system during a speech Thursday.
While acknowledging that parts of the system are broken, Bush warned against reacting to the current financial crisis with excessive regulation, arguing in a speech at New York's historic Federal Hall on Thursday, "the answer is not to try to reinvent that system. It is to fix the problems we face."
As leaders of the world's 20 largest economies, dubbed the G-20, gather in Washington, some European leaders are pushing for global financial regulation.
And critics charge that the Bush administration itself has violated free-market principles with its massive $700 billion bailout plan. They note that the plan has failed to get credit flowing freely again.

Watch Bush tout free-market principles »
Yet in his remarks, the president defended the government intervention.
"I'm a market-oriented guy, but not when I'm faced with the prospect of a global meltdown," Bush said.
He struck an optimistic tone, insisting that America will continue to lead, despite the current downturn.
"The world will see the resilience of America once again," Bush said.
His comments, however, come on the heels of more evidence that America's bleak economy is leading in the wrong direction.
Last week, 516,000 Americans filed new claims for unemployment insurance, according to the U.S. Labor Department. That figure is the highest level since the weeks after the terrorist attacks of September 11.
In his speech Thursday, Bush made no mention of the jobless claims, instead arguing that recent government action is slowly helping turn around the nation's economy.

Watch the World Bank president weigh in »
"Credit markets are beginning to thaw. Businesses are gaining access to essential short-term financing. A measure of stability is returning to financial systems here at home and around the world," Bush said.
Yet some say global investors are looking beyond the current president, who has just over two months left in office.
Economist Jeffrey Sachs said the markets want reassurance from President Bush's successor, President-elect Barack Obama, who will not be at the summit.

Watch why the financial crisis went global »
"People want clarity. They want vision. They want a direction, but an outgoing administration that has failed can't provide it anymore. That's the true fact of life," Sachs said.
E-mail to a friend

All About Financial Markets • George W. Bush • Economic Issues