By Campbell Brown
CNN

Editor's note: Campbell Brown anchors CNN's "Campbell Brown: No Bias, No Bull" at 8 p.m. ET Mondays through Fridays. She delivered this commentary during the "Cutting through the Bull" segment of Thursday night's broadcast.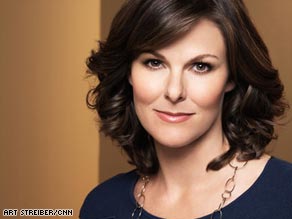 CNN's Campbell Brown cites a Washington Post report on how the bailout is going.
(CNN) -- It was less than two months ago that Congress passed the $700 billion bailout package. Do you remember how it went down?
Treasury Secretary Henry Paulson went to Capitol Hill, got down on his knees and begged House Speaker Nancy Pelosi, warning there would be financial Armageddon if he didn't get this cash.
He asked for a blank check. I criticized him for that at the time and applauded Congress for saying, "No way. There must be an oversight. You must account for the money you spend and answer to us every step of the way."
Well, what a joke. Because here we are today and more than a third of the $700 billion has been spent. Paulson tells us Wednesday, oh, by the way, he doesn't think the money is being spent the right way and he is now going to redirect the rest of it.

Watch Campbell Brown's commentary »
For all I know, Paulson is right. Maybe the original plan was a bad one and we do need to regroup. But where the heck is the oversight?
I mean, members of Congress: You delayed passage of the bailout bill because you wanted checks and balances. You wanted oversight over what Paulson does.
'No bias, no bull'
Get the latest on the day's main events on "Campbell Brown: No Bias, No Bull"
8 ET Monday through Friday on CNN

Thursday, The Washington Post reported that the independent oversight jobs that were created as part of this bailout plan haven't even been filled.
No one is keeping watch on how $700 billion of our taxes is being spent. The law requires Congress get a formal report by a certain deadline. The deadline has passed and, big surprise, there is no report.
Here's the quote The Post had from the Treasury Department's inspector general: "It is a mess. I don't think anyone understands right now how we're going to do proper oversight of this thing."
He's right. It is a mess. And who is to blame? Both the White House and Congress were supposed to nominate people to these oversight positions and confirm them.
Don't Miss
Both the White House and Congress have dropped the ball and not done their jobs. And because of that, Paulson, a former Wall Street banker, has his blank check and our money.
We should all hope and pray he is doing the right thing, because right now, he is answering to no one.
The opinions expressed in this commentary are solely those of Campbell Brown.
E-mail to a friend

All About U.S. Department of the Treasury • U.S. National Economy • Henry M. Paulson