(CNN) -- President-elect Barack Obama took time out from piecing together his leadership team Tuesday to honor the country's fallen veterans.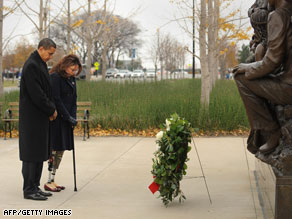 Barack Obama and veteran Tammy Duckworth place a wreath at a memorial Tuesday in Chicago, Illinois.
Obama laid a wreath in Chicago, Illinois, and Vice President-elect Joe Biden spoke at a Veterans Day event in New Castle, Delaware.
Obama called on Americans to "rededicate ourselves to keep a sacred trust with all who have worn the uniform of the United States of America: that America will serve you as well as you have served your country."
"As your next commander in chief, I promise to work every single day to keep that sacred trust with all who have served," he said in a statement.

Watch Obama honor veterans »
Biden thanked the veterans present for their service and reiterated the Democratic campaign's promise to care for those coming back from foreign battlefields "in this war that we ignore in everyday life."
John Podesta, the co-chairman of the Obama-Biden transition team, provided an update on the presidential transition Tuesday afternoon. iReport.com: Who do you think Obama should pick for his cabinet?
Podesta laid out the ethics rules for the transition, but he did not make any key staff announcements.
Under ethics guidelines, Podesta said, federal lobbyists are banned from contributing money to transition and they cannot lobby during their work with the transition, among other things.
No Cabinet appointments were expected this week, but Obama's transition team could make some key staff announcements.
With the transition process under way, President Bush welcomed the president-elect to the White House on Monday.
The two had a "relaxed" and "friendly" meeting, a White House spokesman said.

Watch more on the challenges Obama faces »
Bush said Tuesday that he and Obama had a "good conversation."
Bush said he called former President Clinton before the meeting and told him that he hoped he could be as gracious to President-elect Obama as Clinton was to him.
In addition to policy discussion, the president said Obama seemed particularly interested in how his daughters would like the White House.
"I know his girls are on his mind and he wants to make sure first and foremost he's going to be a good dad, and I think that's going to be an important part of this presidency," Bush said.
Bush also gave Obama a tour of the White House's living quarters, including the Lincoln Bedroom. Bush and Obama held a private meeting in the Oval Office while Laura Bush gave incoming first lady Michelle Obama a tour of the residence.
Bush and Obama "had a broad discussion about the importance of working together throughout the transition of government in light of the nation's many critical economic and security challenges," said Stephanie Cutter, spokeswoman for Obama's transition team.

Watch what happened at the White House meeting »
As the president and president-elect met in the Oval Office, White House press secretary Dana Perino gave Robert Gibbs a tour of the White House press office.
Gibbs was the communications director for Obama's presidential campaign. He has not been named the incoming press secretary, but he is widely considered the top contender. iReport.com: Share your top picks for Obama's Cabinet
There's also been speculation that Obama will name David Axelrod as a senior adviser. A source with the Obama transition team said last week that the plan is "in the works." Axelrod was the chief strategist in the presidential campaign.
Obama has announced one senior staff appointment so far. Two days after the election, he picked Rep. Rahm Emanuel of Illinois to be White House chief of staff.
A lot of names have emerged for potential Cabinet posts, including Sen. John Kerry for secretary of state. New Mexico Gov. Bill Richardson and Republican Sen. Chuck Hagel of Nebraska also have been mentioned for that position.
Health care is another priority, and former Senate Majority Leader Tom Daschle of South Dakota is a possibility for secretary of health and human services.

See who the top contenders are »
Democratic sources also have said Howard Dean, a doctor who had a strong run as the Democratic National Committee chairman, is hungry for the HHS job.
Speculation about Obama's Treasury secretary has centered on Lawrence Summers. Former Federal Reserve Chairman Paul Volcker's name also has been floated.
Democrats said there's also serious talk of Obama briefly keeping Robert Gates, Bush's defense secretary.
E-mail to a friend

CNN's Ed Henry contributed to this report.
All About Barack Obama • George W. Bush