By Paul Steinhauser
CNN Deputy Political Director
WASHINGTON (CNN) -- For most African-Americans, the election of Barack Obama as president was a dream come true that they didn't think they would see in their lifetime, a national poll released Tuesday suggests.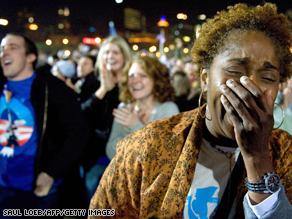 A woman is overcome on November 4 after hearing that Barack Obama had been elected president.
Eighty percent of African-Americans questioned in a CNN/Opinion Research Corp. survey said that Obama's election was a dream come true, and 71 percent said they never thought a black candidate for president would get elected in their lifetime.
The poll reflects anecdotal evidence that surfaced across the country last week as soon as Obama's projected win was announced.
"It's history," said iReporter Tave Johnson, who spent Election Night at the Grant Park Obama rally in Chicago, Illinois. "I'm half-black and half-white. I talked to my grandparents today, and they told me this is historic. To be honest ... I never would have guessed it would happen."
Among white Americans, only 28 percent said Obama's victory in the race for the White House was a dream come true, with the vast majority, 70 percent, saying it was not.
The poll also suggests a racial divide among people who thought a black candidate would be elected president in their lifetimes. Fifty-nine percent of white respondents said they thought a black president would be elected in their lifetime, but only 29 percent of black respondents agreed.

View the results of the poll on race relations »
"Polls show that whites and blacks tend to have different views on the amount of racism in the U.S." said CNN polling director Keating Holland. "So it's not surprising that they would have different views on the likelihood of an African-American president."
Don't Miss
The survey suggests that Obama's victory may have some effect on race relations in this country.
"A majority of blacks now believe that a solution to the country's racial problems will eventually be found," Holland said. "In every previous poll on this topic dating back to 1993, black respondents had always said that racial problems were a permanent part of the American landscape."
"Even in polls taken earlier this year, a majority of African-Americans said that a solution to the country's racial problems would never be found; now blacks and whites agree that racial tensions may end."
As a result, most blacks view Obama's election as the start of a new era of better race relations in the United States, while most whites appear to disagree.
Only one in three whites questioned in the poll said the election marks the start of a new era, although most predicted some improvement in race relations in the country.
"Some whites are tending to take a 'wait and see' approach; six in 10 blacks forecast better race relations as a result of Obama's victory," Holland said.
Indeed, emotions ranged from disbelief to euphoria among African-Americans after the results were announced.
"This is the most wonderful night of my life," said emotional iReporter David White, who grew up during the civil rights movement of the 1960s. "I have never seen anything like this. This is beautiful."
"I've seen this country vindicate itself," he said.
The CNN/Opinion Research Corp. poll was conducted Thursday through Sunday with 1,246 adult Americans, including 310 blacks and 807 non-Hispanic whites, questioned by telephone. The survey's sampling error is plus or minus 3 percentage points for the overall sample and plus or minus 5.5 percentage points for racial breakdowns.
E-mail to a friend

All About Barack Obama • Racism and Bigotry • U.S. Presidential Election