By Campbell Brown
CNN

Editor's note: Campbell Brown anchors CNN's "Campbell Brown: No Bias, No Bull" at 8 p.m. ET Mondays through Fridays. She delivered this commentary during the "Cutting through the Bull" segment of Tuesday night's broadcast.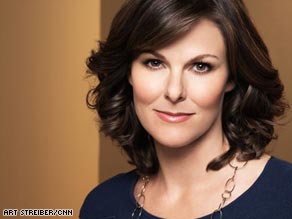 CNN's Campbell Brown says America's disabled veterans deserve better treatment.
(CNN) -- On Veterans Day, we want to bring your attention to a different kind of battle that our disabled veterans are fighting.
Many vets are having an extremely difficult time getting their disability claims reviewed and in many cases getting the benefits they rightly deserve.
The problem is inefficiency at the Veterans Affairs Department, pretty astonishing inefficiency. And because of it, there are numerous stories of servicemen and women finding themselves stuck in limbo, playing an unfair, if not cruel, waiting game.
Just Tuesday, The Washington Post tells the story of Navy Veteran Chase McCombs, who served three years as a navy mechanic.

Watch Campbell Brown's commentary »
He suffered several injuries and told the Post he is now legally blind. His application for disability benefits has been denied twice. He appealed in December and is still waiting to hear from the VA.
'No bias, no bull'
Get the latest on the presidential transition on "Campbell Brown: No Bias, No Bull"
8 ET Monday through Friday on CNN

Friends are helping him pay his bills. He says without their support he would be homeless.
Things have gotten so bad that two veterans groups have finally filed a lawsuit on behalf of some 60,000 veterans, aimed at forcing the VA to handle disability claims faster or to give vets some financial relief while they wait. According to the lawsuit, it is now taking on average about six months for vets to hear back on a benefit claim. If they have to appeal the decision, it can take years.
Don't Miss
These are the men and women who have made extraordinary sacrifices for our country. Bureaucratic inefficiency and incompetence is making their transition back into civilian life yet another war they have to fight. We owe our veterans more. We have got to do better.
For more information about the suits and how you can get the word out visit www.veteransnewsroom.com
The opinions expressed in this commentary are solely those of Campbell Brown.
E-mail to a friend

All About Veterans' Affairs • Armed Forces • War and Conflict