NEW YORK (CNN) -- A key Democratic lawmaker called Tuesday for the resignation of American International Group's CEO after the troubled insurer held a financial planners conference last week at a posh Arizona resort.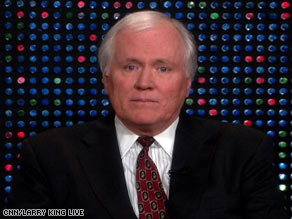 Edward Liddy, AIG chief executive, said the conference educated external financial planners.
The company responded that the event cost AIG very little and was aimed at boosting income.
AIG had come under sharp criticism for sending executives on a lavish English partridge hunt and a weeklong retreat at a California resort after accepting an $85 billion bailout -- since grown to $150 billion -- from the federal government in September.
"These guys, they don't get it," Rep. Elijah Cummings, D-Maryland, said on CNN's "American Morning."
"They came to us basically saying 'we are on the critical list, and we need a respirator,' and we bail them out, and the next thing we know, we turn around and they are going out partying and spending the taxpayers' dollars. And it's kind of -- it's very upsetting."

Watch Cummings criticize AIG »
Cummings, a senior member of the House Committee on Oversight and Government Reform, called for the resignation of AIG CEO Edward Liddy, who joined the company only a few weeks ago as part of the bailout plan.
But Liddy told CNN's Larry King later Tuesday that the conference was legitimate, stressing it was an event not for AIG employees, but for 150 outside financial planners wanting to learn about AIG's products.
And AIG has said that although the event cost $343,000, AIG had to pay only $23,000 of it.

Watch Liddy explain event's purpose »
"Ninety percent of [the conference] was paid for by the participants who were there and our partners at this conference," Liddy told King.
Liddy said AIG was "tightening the belt" and has cut more than 160 conferences or other events in the past seven weeks. But he said some training events for external financial planners are needed "so they understand the product, all of its features, and they know what to sell to whom."
"We don't want a variable annuity sold to a 85-year-old widow," Liddy said.
Liddy said the company will pay off the $150 billion government loan plus interest.

Watch Liddy say AIG will pay back the loan »
"We appreciate what the taxpayer and the federal government has done for us. ... We intend to pay back every penny we've borrowed," Liddy said.
Earlier, AIG spokesman Nicholas Ashooh also defended the conference, saying Cummings was "responding to an incomplete picture."
"This was a legit meeting. It was really for independent advisers at very little cost to AIG."

Watch AIG's CEO explain the retreat at a Arizona resort »
Ashooh also said AIG canceled a speech by former NFL quarterback Terry Bradshaw at the conference.
The conference, Ashooh said, was one "that any insurance company has to do" and not a "junket for AIG top executives."
Phoenix TV station KNXV, a CNN affiliate, reported that AIG tried to keep its connection to the 2008 Asset Management Conference a secret by ensuring that no AIG logos were on the property.
Undercover footage shot by KNXV shows top AIG executives, including Larry Roth, president and CEO of AIG Advisor Group, sitting poolside and drinking coffee while conference-goers attended meetings. Another executive -- Art Tambaro, head of AIG subsidiary Royal Alliance -- stayed in one of the resort's two-story villas.
The footage also shows a few executives being shuttled in a luxury Lincoln Town Car one night and enjoying dinner and drinks at a McCormick & Schmick's seafood restaurant, where they spent more than $400, KNXV reported.
Ashooh insisted that the conference was legitimate.
"We've certainly done some things in the past that have been worthy of criticism, but this one's really been mischaracterized," he said.
Ashooh said AIG indeed tried to keep the event low-profile "because everything has been subject to so much criticism."
"But it wasn't an effort to disguise it. It was an effort to minimize costs and to keep the profile down, because we don't even want to do anything that would even be perceived as expensive," he said.
The U.S. government agreed to an $85 billion loan in September to stave off AIG's immediate collapse. On Monday, the Federal Reserve and the Treasury Department modified the original loan into a $150 billion deal with a lower interest rate and used another $40 billion to buy preferred stock.
The dealings have left the federal government owning 80 percent of AIG.
But AIG ran into criticism almost from the start. There was a $440,000 retreat at St. Regis Resort in Monarch Beach, California, and an $86,000 partridge hunt at an English manor. Last week's conference was held at the Hilton Squaw Peak Hotel in Phoenix, Arizona.
Under an agreement with New York Attorney General Andrew Cuomo, the company agreed to freeze $19 million in payments to its former CEO, Martin Sullivan, and block distributions from a $600 million deferred compensation and bonus pool for the company's financial products subsidiary. The company also withheld a $10 million severance payment to its former chief financial officer.
Sullivan was replaced in June by Robert Willumstad, who in turn was replaced by Liddy as part of the bailout. Willumstad voluntarily gave up a $22 million severance package.
AIG reported a $24.5 billion loss in the third quarter.

E-mail to a friend

All About American International Group Inc. • U.S. Federal Reserve • U.S. Department of the Treasury