By Randi Kaye
AC 360°
Correspondent
WASHINGTON (CNN) -- For the Obama family, it is the move of a lifetime.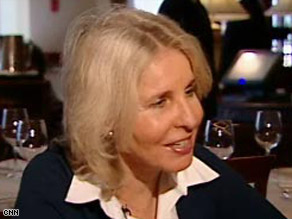 Washington Post columnist Sally Quinn says the Obamas are making Washington, D.C., an "electric place."
Their bags aren't even packed yet, but Washington Post columnist Sally Quinn, who has been part of the social scene in the nation's capital for decades, has some insight about what their new life may look like.
Quinn says Washington, D.C., is the "most electric place I can imagine being right now ... since the Kennedys."
People want to know: Where 7-year-old Sasha and 10-year-old Malia will go to school? Where will Michelle Obama shop? And where will the new president shoot hoops?
The situation is being compared to Camelot and the Kennedys.
"Certainly the age, the youth of the first family ... they have young children. ... I think that spirit, hope and optimism is very Kennedy-esque," Quinn says.
Quinn believes the Obamas will embrace the social scene around their new home, as long as it doesn't interfere with their daughters. She says Michelle Obama will want to put her kids to bed at night and do homework. She doesn't see them "swanning around town." There may be more state dinners, though.
Don't Miss
President Bush held only six state dinners in eight years, and Quinn says he likes to go to bed by 9 p.m. She thinks given the warm reception President-elect Barack Obama is getting from world leaders, there will probably be more entertaining at the White House.
"The world leaders will come and feel good about being invited to the White House and having someone who wants to reach out and discuss things," Quinn told CNN.
Michelle Obama may take a page from the Kennedy book and dine with the ladies at the well-known Jockey Club restaurant. Jackie Kennedy dined there, and it became a hot spot in Washington. Quinn says it's a place where Michelle Obama would feel comfortable.
As far as school, the Obama girls attend private school in Chicago, Illinois, so they'll probably do the same in Washington.
Quinn suggests possibly Maret, Georgetown Day School or Sidwell Friends, where Chelsea Clinton and Al Gore III went. Sidwell is known not only for academic excellence but also as a place where different ethnicities feel welcome. If the Obamas decide to send the girls to public school, it will be Francis Stevens, where Amy Carter went to school.
For church? Quinn says the new first family would fit in well at the National Cathedral. "They're a church that reaches out to people from all different religions, it has Muslim speakers, African-American speakers, Hindu and Jewish speakers, it's a very pluralistic environment," she says.
Where will the new president burn off some steam? Possibly the swanky Sports Club LA, where Secretary of State Condoleezza Rice works out and the Bush twins used to be members. Its glass-enclosed basketball court is one of the best in the city.
The White House has a half-court, but that may not be enough to satisfy President-elect Obama. Also, the Sports Club has a great kids program, so, Quinn says, it may be someplace the family would consider joining.
Trish Berry, club manager, told CNN: "We would love it if the Obama family became members here."
E-mail to a friend

All About Michelle Obama • Barack Obama • Washington, DC