By Nathan L. Gonzales and Stuart Rothenberg
The Rothenberg Political Report
Editor's note: Stuart Rothenberg, who has been a political analyst for CNN and CBS News, is editor and publisher of The Rothenberg Political Report, a nonpartisan political newsletter. Nathan L. Gonzales is the publication's political editor.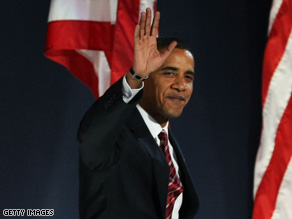 President-elect Barack Obama's victory was not the only thing that made Democrats smile.
(CNN) -- Illinois Sen. Barack Obama's historic and convincing victory in the race for the White House wasn't the only good news for Democrats on Tuesday.
In 2006, Democrats swept into the majority in both the House and Senate, riding on a wave of change. Two years later, Democrats continued the trend, electing Obama as the first African-American president and growing their majorities by significant margins in both chambers of Congress.
In many ways, voters never closed the book on the 2006 elections, as the national atmospherics went from bad to worse for the GOP, according to exit polls. Only 20 percent of voters this year believe the country is headed in the right direction, while 75 percent believe we're headed off on the wrong track.
In 2006, 55 percent thought the country was on the wrong track, compared with 46 percent in 2004.
Four years ago, 53 percent of voters approved of the job President Bush was doing. The number declined to 43 percent in 2006, when Republicans suffered significant losses in the midterm election, and plummeted to 27 percent Tuesday. Public sentiment on the war in Iraq has also dipped, from 51 percent approval four years ago to 36 percent today.

Watch analysts discuss the lessons from Election 2008 »
For Republicans, Bush's shadow looms everywhere. In 2004, the two parties were even, with 37 percent of voters self-identifying with each party. On Tuesday, Democrats held a 39 percent to 32 percent edge. Amazingly, self-identified ideology has been stable over the past four years among moderates, conservatives and liberals.

Watch where conservatives go from here »
Don't Miss
For much of the presidential general election, the race remained competitive, despite widespread national dissatisfaction. But September's economic crisis virtually sealed the deal for Obama, as his subsequent actions made people comfortable with him as commander in chief.
On Election Day, 63 percent of voters said the economy was the most important issue, and they favored Obama by nine points. Obama also led on Iraq (a distant second place as most important issue, with 10 percent) by 20 points and health care (9 percent) by almost 50 points. McCain led with 86 percent on terrorism, but only 9 percent of voters made the issue a priority.
Beginning with the primary, Obama ran a virtually flawless campaign, capitalizing on the call for change. He inspired African-Americans, who made up 13 percent of the electorate (up two points from 2004), from whom he received 95 percent of the vote. Obama also did slightly better among white voters, garnering 43 percent, compared with John Kerry's 41 percent four years ago.
Young voters did not dramatically increase their percentage of the electorate, but they did vote overwhelmingly for Obama. The Illinois senator won voters ages 18 to 29 with 66 percent, compared with 54 percent for Kerry.
Maybe more importantly, young voters made up a larger share of the electorate than voters ages 65 and older, who were more receptive to McCain.
Obama quickly locked up a number of smaller states, such as New Hampshire, Iowa and New Mexico, forcing the presidential contest to larger, more expensive battleground states such as Ohio, Florida, North Carolina and Virginia, where he could exploit his financial advantage, after opting out of the public financing system.
In the end, Obama had a decisive electoral vote victory, winning well over 300 electoral votes while carrying all of the nation's largest states except Texas.
Obama's decisive electoral vote victory was significant, but the popular vote demonstrates the partisan nature of our country. The Illinois senator won 53 percent to 46 percent, the first time since 1976 that a Democratic presidential candidate took more than 50 percent in a general election.
It's also about five points better than the 48 percent that Kerry and Al Gore received.
At least a couple of pre-election campaign story lines never came to fruition.
There was plenty of talk about Obama drawing massive amounts of new voters to the polls. But in both 2008 and 2004, new voters made up 11 percent of the electorate. New voters did boost Obama, voting for the Democrat 69 percent to 30 percent, compared with four years ago, when they split more evenly, 53 percent to 46 percent for Kerry.
Just as surprising, and noteworthy, is that the expected surge in total turnout never occurred. With votes still being counted, roughly the same number of Americans voted in 2008 as in 2004.
Obama did slightly better with white evangelical/born-again voters, but not equal to the amount of attention that the Democrats' concerted outreach to faith voters received.
In 2004, Bush won white evangelical/born-again voters 78 percent to 21 percent, while McCain won them 74 percent to 24 percent. Obama's percentage among white evangelicals was actually lower than the 28 percent that Democratic House and Senate candidates received in 2006.
Democrats had another big night in the Senate, but it looks like they'll fall short of the 60-seat majority they sought. Obama's party has picked up at least six seats, with votes still being counted in Alaska, Minnesota going to a runoff, and Georgia headed for a December 2 runoff. Democrats need to win all three to get to 60, an extremely difficult task.

Watch which Senate races are still undecided »
Even a six-seat Senate gain would be the most seats to come in with a winning presidential candidate since Ronald Reagan's Republicans netted 12 in 1980. Combined with Democrats' 2006 victories, they've captured at least a dozen seats in the last two elections, and haven't lost a single Senate seat over the same span. That hasn't happened in at least 50 years.
Democrats also had another big night in the House. A handful of races are still too close to call, but they are likely to net at least 20 seats, bringing their two-cycle total to at least 50.
Their 2008 gain is the most by a winning presidential candidate's party since Republicans netted 22 seats in 1952 while Americans elected Dwight Eisenhower.
Some Republicans are actually breathing a sigh of relief, believing that their House losses could have been bigger in the face of an unpopular president, terrible political environment, their defense of far more open seats and dramatic financial disadvantage.
Through November 3, the Democratic Congressional Campaign Committee spent over $75 million on 64 congressional districts, compared with $21 million on 35 districts from the National Republican Congressional Committee, according to the Campaign Finance Institute.
Republicans were able to fight Democrats to a draw in many toss-up seats and keep losses relatively low.
It's still unclear whether this has been a transformational cycle, or if Democrats just had a great four-year run against Bush.
But with the White House, huge majorities in the House and the Senate, a majority of governors nationwide, and even a considerable majority of state legislators, there is no question that the Democrats rule the country.
E-mail to a friend

All About Democratic Party • Republican Party • Barack Obama