By Jamie McIntyre
CNN

(CNN) -- As each day passes, the buzz is building that Robert Gates might be asked -- and agree -- to stay on as defense secretary, at least for a while.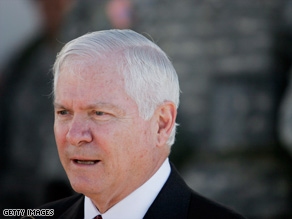 Washington insiders wonder whether Defense Secretary Robert Gates will stay in the post past January.
Gates himself left the door open this year, when I first asked him whether would consider serving in the next administration.
"The circumstances under which I would do that are inconceivable to me," Gates craftily replied in an April Pentagon news briefing.
When I asked him again later in the summer while touring Peterson Air Force Base in Colorado, he gave the same answer but added an all-important qualifier: "I've learned never to say never."
Well, those circumstances that seemed "inconceivable" back then appear all too conceivable now. In fact, it's the talk of the Pentagon.
What we know from some of the few people who have actually discussed this with Gates is that he IS willing to stay, although not too long.
But the former spymaster is playing his cards very close to the vest. Almost no one at the Pentagon knows what's really going on over the back channels.
And the ones who do aren't talking. "I'm not at liberty to discuss that subject," said one aide who sees Gates every day.
But -- and this is significant -- no one around Gates is dismissing the idea out of hand. Usually, if a report is totally off-base, there are plenty of people ready to knock it down.
One rumor has Democratic Sen. Jack Reed, himself prospect for Sec Def, acting as intermediary for President-elect Obama, sounding out Gates, before any offer is considered.
Another rumor is that Gates is holding out to keep some of his key people, including his deputy Gordon England.
We also know Gates is under some "family pressure" not to agree to a long-term or open-ended extension. When he left his dream job as president of Texas A&M University to become defense secretary, he promised his wife the move to Washington would actually shorten the time before they could retire to their homes in the Pacific Northwest. He wants to keep that promise.
And the thinking among smart people at the Pentagon is that if Gates were to stay, the deal could not include any public departure date. That would make him an instant lame duck and undercut his effectiveness.
Still, most of the people around him believe if the job is offered and Gates takes it, he'll end up staying less than a year.
As Gates, a fan of the "Lethal Weapon" movies, is fond of joking, "I'm too old for this s--t."
E-mail to a friend

All About Robert Gates