(CNN) -- President-elect Barack Obama could name other members of his administration on Friday, a day after he named Rep. Rahm Emanuel as White House chief of staff, an Obama transition official said.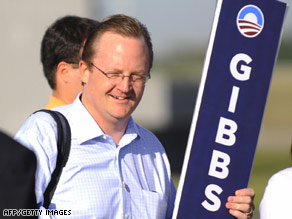 Robert Gibbs, communications director for Obama's campaign, is likely the front-runner for press secretary.
Among the announcements expected soon is Obama's selection for press secretary. Observers believe it will be Robert Gibbs, the communications director for Obama's presidential campaign.
Obama will hold a news conference Friday -- his first since winning election -- and may announce key administrative appointments during it, the official said, speaking on condition of anonymity when discussing Obama's plans.
Obama also is expected to take questions from reporters, the official said. iReport.com: Who should be in Obama's cabinet?
Gibbs said that to say he has been offered the job is a report "ahead of itself."
Obama was considering who will be on his team long before Tuesday's election.

Possible appointees for Obama's administration »
Obama could pick Republicans such as GOP Sens. Chuck Hagel or Dick Lugar to come on board, analysts speculate.
Defense Secretary Robert Gates' name also has been floated in media reports.
Gates has served in Bush's Cabinet for almost two years. He worked for the Central Intelligence Agency for 27 years, serving as its director from 1991 through 1993. He also served as deputy national security adviser under President George H. W. Bush.
Don't Miss
"What Barack Obama has to do in the transition time is set the tone," said Gloria Borger, a senior political analyst for CNN. "If he reaches out to Republicans in the Cabinet -- if he decided to keep Bob Gates at Defense -- that's really, really important."
Hagel, R-Nebraska, is a Vietnam War veteran and fierce critic of the Bush administration's handling of the Iraq war. Hagel did not run for re-election for his Senate seat this year.
Lugar, R-Indiana, is minority leader of the Foreign Relations Committee and worked with Obama last year to expand a program aimed at destroying weapons of mass destruction in the former Soviet Union.
Obama on Wednesday met with key advisers and began making decisions about his transition team.
Joe Biden, the vice president-elect, said a "sense of excitement" surrounds the transition.
"Yesterday we really did, five of us in a room, seven of us in a room, really actually [begin] to put together a government," Biden said Thursday.
"We've thought a lot about it, but it was the first time ... we actually started talking about names and places and organizations."
John Podesta, a former chief of staff under Clinton, is among those leading Obama's transition team. Valerie Jarrett, one of Obama's top advisers, and Peter Rouse, Obama's Senate chief of staff, are also involved in the effort.
Obama will begin publicizing "the steps that he'll be taking to get prepared to lead on January 20," Jarrett said shortly after Obama gave his victory speech.
Filling out his economic team is a priority for Obama as he begins to implement a strategy to quell the economic crisis. See the candidates
"This is one of the first times that I can remember that the secretary of the treasury is going to be almost as important as the secretary of state," said CNN senior political analyst David Gergen, who served in the Reagan and Clinton administrations.
Treasury Secretary Henry Paulson said Thursday that he looks forward to a smooth transition.
"I congratulate Senator Obama on the election and look forward to working with his team to ensure that there is a smooth and effective transition.
"A methodical and orderly transition is in the best interests of the financial markets and Treasury is committed to making sure that the incoming team can hit the ground running in January," he said in a statement.
Names circulating for the secretary of the treasury position include Timothy Geithner, Lawrence Summers and Paul Volcker.
Geithner helped deal with Wall Street's financial meltdown earlier this year, overseeing the acquisition of Bear Stearns by JPMorgan Chase and the bailouts of AIG and Lehman Brothers. He was appointed president of the New York Federal Reserve in November 2003.
Summers was appointed treasury secretary in July 1999 and served as the chief economist of the World Bank from 1991 through 1993. Before his career in government, he taught economics at Harvard.
Volcker is a former chairman of the Federal Reserve, serving under Presidents Carter and Reagan. He also worked in the private sector as an investment banker and headed the investigation into the United Nations' oil-for-food program for Iraq.
The White House is holding an economic summit November 15. Obama could delay naming his economic team to avoid interfering with the G-20 summit.
Obama said Thursday that Emanuel accepted his offer to be White House chief of staff. The Office of the Chief of Staff oversees and coordinates activities and communication among various departments of the administration.
"I announce this appointment first because the chief of staff is central to the ability of a president and administration to accomplish an agenda. And no one I know is better at getting things done than Rahm Emanuel," Obama said in a written statement.
Emanuel, of Illinois, helped lead Democrats to majority control of the House in 2006. He was elected to the House in 2002 and is the fourth-highest-ranking member of the chamber's Democratic leadership.
He also worked on President Clinton's first presidential campaign and served as a White House adviser to Clinton.
Emanuel choked up as he said how glad he is his parents are alive to see him have the choice of becoming chief of staff for a "historic figure."
He said he wants to do "everything I can to help deliver the change America needs."
Also Thursday, Obama returned the calls of nine leaders of other countries, thanking them for having expressed congratulations on his election. The leaders were: the presidents of France, Mexico and South Korea; the prime ministers of Australia, Canada, Israel, Japan and the United Kingdom; and the chancellor of Germany.
On Monday, Obama and President Bush are set to meet in the White House.
"Michelle and I look forward to meeting with President Bush and the first lady on Monday to begin the process of a smooth, effective transition," Obama said in a statement. "I thank him for reaching out in the spirit of bipartisanship that will be required to meet the many challenges we face as a nation."

E-mail to a friend

CNN's John Helton, Kristi Keck and Alexander Mooney contributed to this report.
All About Barack Obama • U.S. Presidential Election