WASHINGTON (CNN) -- The White House on Thursday acknowledged that a peace deal between Israel and the Palestinians is unlikely to happen before President Bush leaves office.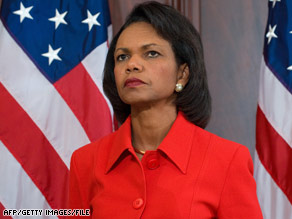 Secretary of State Condoleezza Rice is on a trip to the Middle East.
"No, we do not think it's likely that it would happen before the end of the year," White House spokeswoman Dana Perino said.
She spoke as Secretary of State Condoleezza Rice spoke as she arrived in Israel for her eighth trip to the region since last year's U.S. summit on Israel-Palestinian peace in Annapolis, Maryland.
Rice hinted that a deal would not be reached by the end of the year, but stressed that "a firm foundation" has been established by the outgoing Bush administration for a future agreement.
"I expect to be continuing to work on this with the parties until the day that we leave," Rice told reporters Thursday, en route to Tel Aviv, Israel. "But the important thing is to make certain that there is a recognition of the substantial progress that they have made, a recognition of the commitment that these parties have made to concluding the work of Annapolis, and a solid international foundation of support for what they've tried to do and what they're going to continue to try to do."
Bush hosted the summit in late November 2007 with the goal of securing a peace deal before he left office. Israeli Prime Minister Ehud Olmert and Palestinian President Mahmoud Abbas also signed an agreement to work toward that goal by the end of 2008.
Both Israeli and Palestinian officials have expressed doubts about arriving at an agreement before the end of the year, but U.S. officials have been more optimistic in their public comments.
Don't Miss
Rice blamed part of the inability to secure a deal on recent political changes in Israel, which she noted is "in the midst of elections."
"That makes a difference. It is a different circumstance than had a coalition formed," she said. "So I think we have to recognize that."
But she noted that the Annapolis process "has brought them (Israel and the Palestinians) closer to resolution of this conflict than they have been, maybe ever, and certainly in some time."
Olmert resigned in September amid allegations of corruption.
Kadima Party leader and Israeli Foreign Minister Tzipi Livni gave up efforts to form a new coalition government late last month and is seeking to hold early general elections, which could be held in February, Livni's spokesman has said.
Olmert will continue to lead as Israel's interim prime minister until a successor assumes power either by forming a coalition in the current Knesset or through general elections. However, it is unclear whether he will be able to strike a deal with the Palestinians before Israel forms its new government.
Last month, Rice postponed a trip to a Middle East conference because of the global crisis in financial markets.
Rice has said she would "leave no stone unturned" in trying to get a peace deal between Israelis and Palestinians before the end of the year.
Regarding her current trip to the Middle East, a State Department statement earlier said Rice "will meet with her quartet counterparts and senior government officials to discuss efforts to achieve positive and lasting peace in the region, consistent with the Annapolis process and the shared goal of a two-state solution."
The Mideast Quartet -- which includes the United Nations, the U.S., European Union and Russia -- has been working to negotiate a peace deal between Israel and the Palestinian government.
E-mail to a friend

All About Middle East Conflict • Condoleezza Rice