From Jeanne Meserve
CNN Homeland Security Correspondent
WASHINGTON (CNN) -- Department of Homeland Security Secretary Michael Chertoff announced the resignation of Julie Myers, assistant secretary for Immigration and Customs Enforcement, on Wednesday.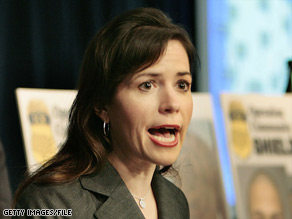 Julie Myers, head of Immigration and Customs Enforcement, will leave her post on November 15.
Chertoff praised the accomplishments of Myers, who will be leaving her post on November 15. He noted that under Myers' leadership, ICE set records for illegal immigrants and fugitive arrests and deportations.
Myers also led efforts to identify and charge illegal immigrants in the nation's jails, modernized the deportation process and enhanced oversight of detention operations, Chertoff said.
"Julie has been a major force in transforming ICE into a 21st century law enforcement agency," Chertoff said in a statement.
Myers' three-year tenure has not been without controversy. Under her leadership, ICE undertook more aggressive workplace enforcement of immigration laws which sometimes led to the separation of families.
The agency was also criticized for providing inadequate health care to some detainees in its custody, and for sedating deportees, although that is now done only with a court order.
Myers' judgment was also questioned by some members of Congress after she awarded a prize at an ICE Halloween costume party to a man in dreadlocks with tinted makeup on his face.
ICE Deputy Assistant Secretary John Torres will run the agency during the presidential transition, said spokeswoman Kelly Nantel. Nantel said Myers has not yet announced her next career move.
"She is very proud of the accomplishments of ICE, and is very proud to have served with the men and women of ICE," Nantel said.
E-mail to a friend

All About Julie Myers • U.S. Bureau of Immigration and Customs Enforcement