By Mallory Simon
CNN

(CNN) -- Conservative pundits and bloggers were conciliatory Wednesday morning, but urged supporters to continue to fight and use Sen.John McCain's defeat as a springboard to strengthen the Republican Party.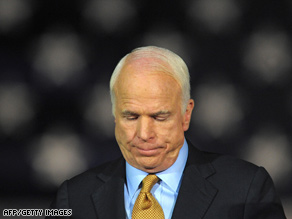 As Sen. John McCain loses the presidential election, conservative bloggers and pundits turn to the future.
On several right-wing blog round-ups, conservative writers applauded Sen. Barack Obama's historic presidential election victory. But many, including Mark Steyn, author of "America Alone: The End of the World As We Know It," cautioned against harping on the "what-if's" and urged conservatives to look to the future.
"I think our energies would be better focused on examining where we went wrong than in objecting to where the other guys went right," Steyn wrote on The National Review Online. "We need to rediscover a coherent conservatism and find someone who can pitch it to sufficient numbers of people. We didn't have either in this campaign."
For GOP leaders and supporters, looking forward means deciding what direction conservatives will move in the coming months and years.

Watch what's next for the GOP »
On Thursday, a group of prominent conservatives, including political and media strategists, will meet in Virginia to discuss just that. Media reports suggest a group of 20 people will talk about what the party needs to do in a Democrat-dominated government and what must be done in order to avoid a third cycle of defeats for Republicans in the next midterm elections.
National Review Editor Kathryn Jean Lopez wrote that she was nervous about a one-party dominated system in Washington, given Democrats' "radically wrong" stances on key issues. Still, she argued the greater task is for Republicans to work on making productive changes to the party.
"This is an opportunity, too, an opportunity for our movement, the conservative movement, to reassess, to return to its roots, to study and renew," she said. "And to whip the Republican Party into shape. It's going to be tough. But the Right is up for it. I'm so sorry we're here. But we appear to be. So we'll buck up, build up and fight on."
During the meeting in Virginia, conservatives will also assess what mistakes were made duringMcCain's campaign. Politico reported that South Carolina Republican Party Chairman Katon Dawson and a committee of 15 members of the RNC will be hosts of a "Renew, Reform, Restore" meeting in Myrtle Beach to discuss "lessons learned."
Don't Miss
So while some bloggers may be hoping to forget the past few campaign months, others say looking back is the only way to successfully move forward.
CNN political contributor and Republican strategist Alex Castellanos said numbers showed why McCain and the Republicans failed, pointing out the only demographic McCain won was voters over age 65.
"The future of the party is very much in doubt," he said. "This was a new frontier election, a new generation of challenges."
Castellanos said Obama was able to create a narrative in his campaign that spoke to the voters, but McCain's narrative focused solely on himself.
"So yes, the Republican Party now needs the story," he said. "Where do we go? How do we lead this country into the future?"
CNN political contributor and conservative pundit Bay Buchanan said the election clearly showed voters outright rejected President Bush and what he represents -- including the Republican Party.
"And so, we've got to come together as a party and start to recognize where we -- where we failed the American people, what did we do wrong?" she said. "And redefine ourselves as a party that's based on principles and values that are shared by the American people. It's going to take it one step -- one step at a time, baby steps."
Conservative Peter Kirsanow wrote on the National Review that Republicans as a whole must take a hard look at what went wrong, saying "losers usually do" need to reassess their strategy.
But Kirsanow argued that one of the Republicans' biggest tasks in the coming months will be to keep Obama and Democrats honest.
"We still have principles to defend and we must defend them vigorously, particularly in the first 100 days, when many of the most objectionable bills will likely be brought up."
Kirsanow urged conservatives to look for opportunities to reach across the aisles whenever possible to help better the country, but to continue to hold steadfast to their ideals.
"On every other occasion, fight," he wrote. "Fight every attempt to entrench a new entitlement. Fight every attempt to redistribute wealth. Fight every attempt to radicalize the courts. Fight every attempt to weaken our defenses. Fight every attempt to restrict political speech. Fight every attempt to revise history. Fight for what's best about America."
Brent Bozell, president of the Conservative Victory Committee and founder and president of the Media Research Center, called Obama's election one of the "greatest political sleights of hands of all time," and blamed the downturn of the Republican party on the liberal wing of the GOP.
While he said that for now, "we are out," he remained confident the party just needs to re-examine its approach.
"Our principles continue to be embraced by the American people," he wrote. "It is our movement that needs rebuilding. That begins today. It's time for conservatives to roll up their sleeves, strap on their boots and get to work."
E-mail to a friend

All About Republican Party