(CNN) -- CNN.com readers around the world celebrated Sen. Barack Obama's presidential victory over Sen. John McCain Tuesday night. For most of them, the historic significance of Obama's win was the most important part of the election.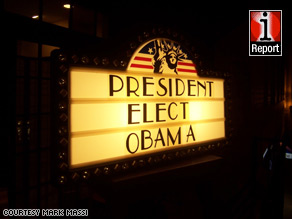 Mark Massi updated his election marquee all night as the results came in.
Elated supporters took to the streets of Chicago, Washington, Atlanta and other cities across the globe, dancing and cheering for their candidate.
"This is the most wonderful night of my life," said an emotional David White, who grew up during the civil rights movement of the 1960s.
White said he remembers when African-Americans couldn't go to amusement parks and didn't think a day like this was achievable.
"I've seen this country vindicate itself," he said. "I welled up with tears just looking at the turnout ... I just thank God that I was alive to see it." iReport.com: 'We made it'
Tave Johnson put the significance of the win in perspective.
"It's history," said Johnson, who spent the evening at the Grant Park Obama rally in Chicago, Illinois. "I'm half-black and half-white. I talked to my grandparents today, and they told me this is historic. To be honest ... I never would have guessed it would happen." iReport.com: Celebrating victory at Grant Park Obama rally
Many iReporters were quick to praise the victory as a momentous message to the children of the United States and around the world.
Samiour Patterson has two children and said Obama's victory means everything to him and his family. "It's amazing when I can sit here and finally say, 'you know what? You can do this. If you want to be the president of the United States when you grow up, no one can stop you.'"
His family celebrated Tuesday night with a "yes we did" cake. Patterson is African-American, but he says it wasn't about black or white in the election.
"It means a lot to us, not just because he's black, but because he's qualified," he said. "That's why the crowd is so diverse. It's a true picture of America. We've come together as a United States of America rather than just black people or white people. We've come together as a people and elected the best choice for America." iReport.com: 'Yes we did!'
Although Ithaca College sophomore Chloe Scott voted for McCain, she joined hundreds of students in celebrating Obama's win at the upstate New York campus.
"I'm just so happy the college came together," she said. "I'm ready for change in this country. I think we are all so happy the election is over." iReport.com: Students join in the national anthem
Eric Tinoco, a third-generation Mexican-American who also attended the rally in Grant Park, agreed that Obama's win was "an important step forward for our country" -- especially for the children.
"We've all inherited a racist legacy," he said. "I think this would certainly be a touchstone for all minority children growing up in the United States. They can see, if he can do it, I can do it." iReport.com: Grant Park rally for Obama
High school student Marcus Harun said Obama's victory has restored his faith in the United States.
"We the people, everyone's created equal -- that's what we say," he said. "But I've never seen it put into action until something like this. I really got touched when I saw the number, that he had enough electoral votes to be the next president of the United States. I'm not saying that either candidate was the one I was looking for, but I'm really happy for our country." iReport.com: 'A great day in American history'
Many iReporters attended or hosted election parties where the historic election outcome was celebrated into early Wednesday morning. Several, including Tave Johnson and Eric Tinoco, attended the massive Grant Park rally for Obama in Chicago. Others, like Kevin Phillips of Indianapolis, Indiana, attended their own election parties.
"The mood here rivals a New Year's Eve party," said Phillips. He watched the election results with about 60 people at the small music venue where he works, and said nearly everyone at the party was an Obama supporter. iReport.com: 'Obama wins!'
Mark Massi hosted an election party at his Chicago apartment for nine of his fellow Obama supporters. He used a large marquee purchased from Craigslist to display real-time election results throughout the evening.
"This room is elated," said Massi when the election was called. "There's a few people here who have broken down into tears ... It's a lot of fun here in Chicago right now. I'll just say that." iReport.com: A big night for Chicago
It was a big night for Washington, D.C., as well.
Marisa Uchin was one of thousands of people that took to the streets of the district and began "dancing and cheering."
"It was just so alive," she said by phone as people cheered and car horns sounded in the background. "By the time we got to the White House, there were a thousand of us dancing. The bus drivers [and] cab drivers are honking their horns. It's like a big cloud has been lifted off the city." iReport.com: Obama victory at the White House
Countries around the world were also abuzz with excitement over Obama's victory. Thomas Cohan attended a party in Paris where American Democrats living abroad came together to watch the election results.
"We estimate the crowd was around 1,500 people. A lot of people were turned away as there was more than double the expected turnout," he said. "Every time a new result was posted, the crowd would erupt in yells and screams. It was like a rock concert." iReport.com: Americans in Paris celebrate Obama victory
Even supporters of Sen. John McCain said they were excited for Obama's historic achievement.
Barbara Rademacher, who voted for McCain, said she was grateful that she was able to see Obama's victory.
"All I can say is, thank you God for letting me live to see this day," she said. "My sincere prayer is that we can finally all live together without the heavy baggage of the past weighing us down." iReport.com: 'I am so happy,' even as a McCain voter
David Kronmiller said he hopes McCain supporters will give Obama a chance, even if they do not agree with some of his policies.
"I think they'll be surprised," Kronmiller said. "I mean, look at him. He's inspired so many of us. So many people now care about their government in a way they've never cared before. Young people are engaging, caring about their lives and their futures. And I think that no matter what, that's worth it." iReport.com: 'Obama won -- now maybe we can move forward'

E-mail to a friend