By Donna Brazile
CNN Contributor
Editor's Note: Donna Brazile, a Democratic strategist, serves as a political contributor for CNN. She also serves as the chairwoman of the Democratic National Committee's Voting Rights Institute, an adjunct professor at Georgetown University and founder of Brazile & Associates, a Washington-based political consulting firm. Brazile, who served as the campaign manager for the Al Gore-Joe Lieberman ticket in 2000, wrote "Cooking with Grease: Stirring the Pots in American Politics," a memoir about her life in politics.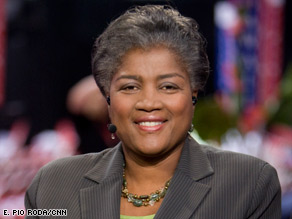 Donna Brazile says the people of America have told the world they are ready for change.
(CNN) -- Tuesday, November 4, 2008, will go down as the day America opened its history book, turned the page and started a new chapter of change.
This is truly a historic night -- a moment many of us prayed for, marched for, organized for and some even died for. This is not the end of a journey, but the turning of a major page in American history.
If the Rev. Martin Luther King Jr. were alive, he would have cautioned us not to stop praying, not to stop marching, but to keep the dream alive.
As Sen. Barack Obama has stated so long ago, change never comes easy. Tuesday night, the people of America told the world that they are ready for change and they will back Obama in leading the change.
Throughout his long journey, Obama built a campaign based on three factors: It was inclusive, engaging and empowering.
The key ingredients were simply Obama's ability to build a campaign from the bottom up. Obama called on ordinary citizens to believe that together they could turn the page. Second, the campaign used technology to connect people where they lived.
At every event, he reached out to citizens to talk to one another and to work toward a common purpose. It was empowering because the campaign took root across America.
Obama planted seeds of hope. He harvested the votes of those who gave up on politics and now America can celebrate this moment.
Anything is possible again in America.
The opinions expressed in this commentary are solely those of Donna Brazile.
E-mail to a friend

All About Barack Obama