(CNN) -- iReporters across the country and political spectrum happily braved long lines to cast their ballots this historic Election Day. While some voters reported a short wait at their polling place, others stood in line for more than two hours.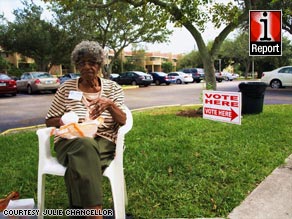 Dera Cunningham of Fort Lauderdale, Florida, says she's volunteered with elections there since the 1950s.
"It feels great to be an American today. The best hour and a half of my life," said Jude Elliot, who arrived at his Orangeburg, South Carolina, polling station at 6:45 a.m. to cast his ballot for Sen. Barack Obama.
Elliot, an eighth-grade social studies teacher, has been voting in Orangeburg since 1998. He said it usually takes him five minutes to vote, but on Tuesday, it took about 90.
"Polling station was packed -- young, old, black, white, disabled, not," he said. "It was amazing."
Read below for more voting-day stories from iReporters across the country.
Mental health counselor Elmira Luckey was impressed with the turnout at her Richmond, Virginia, polling station. "People were there in the rain, in the cold, with their children, people close to the 100-year-mark, with their walkers and their chairs."
Luckey stood in the rain for nearly two hours to vote for Obama. Although she heard some people in line complain about the weather, she said those complaints were followed up with, "But I'm here, and I'm gonna stay here."
Don't Miss
Michael Bichara waited for two and a half hours to vote for Sen. John McCain in Westchester, Florida, a suburb of Miami. He said he thought the polling station was set up inefficiently.
"[My] only beef with the process was everyone separated by last name," Bichara said. The A through M line had several people in line, while the others were empty, he said. Bichara showed up an hour and a half late for work, but said his employer didn't mind.
Nathan Grebowiec, 27, of Plainville, Kansas, said the only person in line in front of him was his wife. "I was there at 10 in the morning and I jokingly said the line was my wife and that's only because I let her through the door first," he said. Grebowiec, a registered Republican, voted for Obama. It was the first time in a presidential election he voted Democrat.
University of Georgia graduate student Jordan Sarver said he thought he was in the wrong place when he arrived at his polling station at Memorial Park in Athens, Georgia. The Obama supporter didn't have to wait in line. "It was great," he said. "It took me more time to get there than to actually vote."

Check out Election Day stories from Sarver and other iReporters »
Robert Gysi, 20, an electrical engineering student at University of Central Florida, has been watching the line of voters from his dormitory window. Gysi voted for McCain via absentee ballot last month.
Other voters told Gysi that they had waited for two hours to vote in the morning, and the line looked even longer later on. He saw many people snacking and getting food from restaurants from across the street and eating in line.

See photos of long lines, excited voters »
Ronnie Senique was greeted with cheers when he exited a polling location in Landover, Maryland. The 34-year-old arrived at 4:10 a.m., making him the first person in line. By the time he left, "The lines were around the corner. They snaked around the school and they went into the street," he said.
Senique has been a U.S. citizen for three years, and this was his first time voting in a presidential election.
Dawn White, of Oceanside, California, said she saw news reports about people waiting in long lines across the country, but she and her daughter Jalaia, 4, zipped in and zipped out of her polling place.
"I felt a little left out," she said. "I am disappointed because I've been watching TV and I felt like I needed to be a part of the long lines."
White said she had been looking forward to meeting other voters in line.
Joseph Vardner spotted a long line in Velda City, Missouri, where there's a seven-hour wait to vote. He works for a nonpartisan voter rights group and was called out to examine the situation, but there wasn't much to be done about it -- things were just moving slowly.
Lacresha Lincoln shared the story of 105-year-old Corinthian McGlothlin, who cast his vote in Saginaw, Michigan. McGlothin's granddaughter and caretaker, Gwendolyn Bowman, said she remembers him voting in just about every election. This year, she says he's pulling for Obama. "Because of his age, he never thought he would live to vote for a black president."
In Indianapolis, Indiana, Noah Coffey showed up bright and early to try and get a jump on voting at his middle school-turned-precinct. He arrived at 5:50 a.m. and finished about 45 minutes later. He described the mood as "pretty somber, pretty calm," likely because "most people were there before coffee, as I was."
Nat Wilson drove 70 miles to help is 96-year-old grandmother, Isabella Johnson, vote for Obama in Franklin, Virginia. He said she's never been so excited about an election in her life. "All she's been saying is I hope I live to vote, and she made it."
Tracie Van Doren went into labor at her Los Angeles, California, polling station, and still cast her vote. She was in line when her water broke, raced to her doctor's office and got a note to go to the front of the line. She went back to the precinct, cast her vote and headed off to the hospital to get ready for her first child.
Mabel Wimmer of Mandeltna, Alaska, drove about an hour to her polling place at a local library in her sparsely populated district. "They do have voter rolls, but they recognize you. They still have to check it off." Wimmer grew up in Wasilla, hometown of vice presidential candidate Sarah Palin, but cast her vote for Obama.
Trisha Samu decided to walk three miles to her polling station in Harrison Township, Michigan. She and her husband share a car, he needed it for work, and she "figured it was a nice day" so made the trek on foot. "Hour and a half later, [we] arrived at polling station and only had eight people in front of us signing in."
Jenna Schoch, who says she's "become a political junkie" over this election season, was inspired to vote for the first time this year in Kresgeville, Pennsylvania. She cast her ballot for Barack Obama.
E-mail to a friend

All About U.S. Presidential Election • Elections and Voting