From Adam Levine
CNN

(CNN) -- Dana Zoladz and four friends thought they would cast ballots Sunday in Columbus, Ohio. Then they learned how long they'd need to stand in line.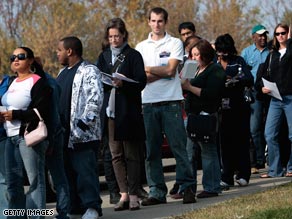 Voters stand in line Sunday outside an early-voting location in Columbus, Ohio.
Zoladz, 27, and her friends gave up after realizing there was a six-hour wait at the Franklin County early-voting center at the Veterans Memorial. She decided to try again on Election Day.
"Six hours is ridiculous in terms of waiting in line," her father, Dan Zoladz, told the CNN Voter Hotline.
Dan Zoladz was one of many people around the country who contacted the Hotline this weekend, some awed at the turnouts at early-voting centers and others frustrated by the waits.
The Hotline, which voters can call through Election Day if they see a voting problem, has received nearly 25,000 calls, almost 6,000 of which were from people seeking their voting location. CNN's partner, InfoVoter Technologies, has transferred 16,000 callers to their local board of elections so they can get help with problems.

Watch who is being affected by long wait times »
Thirty-one states have allowed voting ahead of Tuesday's election, either in person or by mail-in ballot. By Friday, more than 23 million ballots had been collected in 25 of the states. iReport.com: Long lines in your town? Show us video, photos
In Columbus, the spokesman for Franklin County, Michael Stinziano, said people lined up at the early-voting center as early as 6:30 a.m., even though voting did not begin until 1 p.m.
CNN Voter Hotline
If you have a problem voting or see a problem, call the CNN Voter Hotline at 1-877-GOCNN08 (1-877-462-6608); CNN will report on some of your calls, and our partner InfoVoter Technologies can help get you in touch with your election board or find your voting location.

"I think it is fair to say that we had a four-hour line before we opened the doors," Stinziano said in an e-mail.

In Ohio's Cuyahoga County, which includes Cleveland, lines were stretching "about two blocks" Sunday, said Mike West, spokesman for the county election board.

West said the atmosphere in line was upbeat. His voting location opened up an hour earlier than scheduled to accommodate the crowds, he said.

Both counties said anyone in line by the 5 p.m. closing time would get to vote.

In Florida, where long lines also have been an issue at some centers, Cesar Jimenez called the Hotline three hours into his wait.

"I still haven't had an opportunity to vote," Jimenez said while in line at the Parkland Library in Parkland, Florida, north of Fort Lauderdale. "It seems crazy." iReport.com: Long line in Jacksonville, Florida

Reached at his home later in the day, Jimenez said he voted at 2 p.m., five hours after he arrived. Despite the long line, Jimenez said the mood there was upbeat.

"Everyone seemed to have an incredible spirit of wanting to vote," he said. "They were having sandwiches brought to them from home and having take-out brought to them."

The Web site of Broward County, Florida, showed wait times between two-and-a-half to six hours at voting locations.

As of Sunday, more than 4 million in-person and mail-in ballots had been cast in Florida, a state hotly contested by presidential candidates Sen. John McCain and Sen. Barack Obama.

In Indiana, where in-person absentee voting will resume Monday morning and go until noon, turnout has been stronger than normal for the state. Close to 557,000 voters had submitted absentee ballots as of Sunday morning, said Jim Gavin, spokesman for the Indiana secretary of state. In 2004, 262,000 absentee voters cast ballots there.

"There's been a tremendous amount of interest," Gavin said.

Gavin described lines in Marion County -- the county of the state's capital, Indianapolis -- as "busy and long." iReport.com: Two-hour wait in Indiananapolis
In California, San Diego voters were waiting up to three hours to vote at the county registrar office, according to CNN affiliate XETV.
CNN will be tracking voter problems through Election Day. If you have a problem or see a problem, or want to tell CNN about your voting experience, call the CNN Voter Hotline at 1-877-462-6608. See what issues are a concern in each state by clicking on the interactive Hotline map at CNN.com/hotline.
E-mail to a friend

All About U.S. Presidential Election • Florida • Columbus (Ohio)